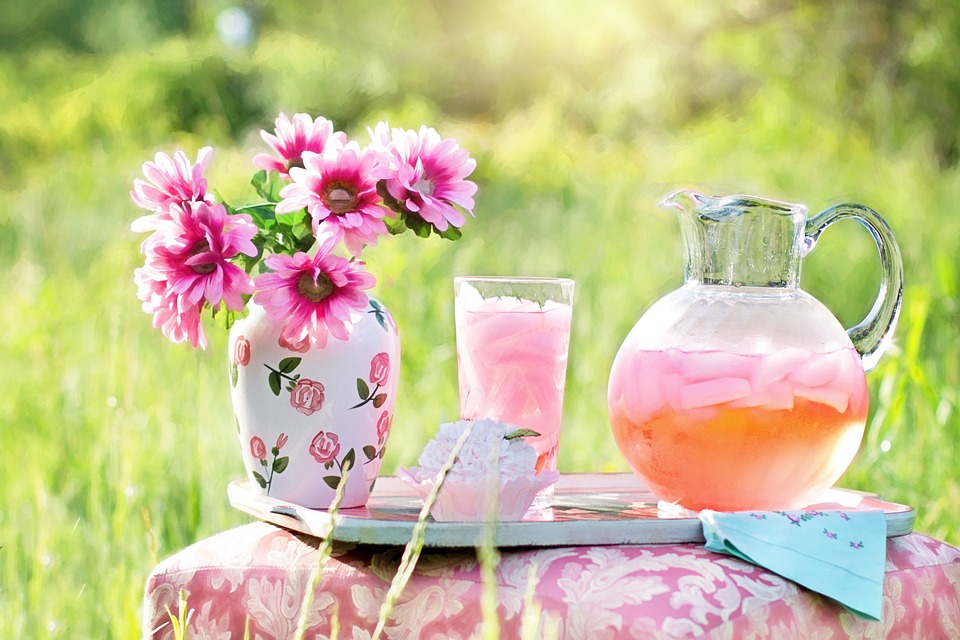 July 31: New Moon in Leo
August 1: Mercury moves forward
August 15: Full Moon
August 30: New Moon in Virgo
Early August Area of Focus: Children, Joy & Creativity Gua
Mid-Late August Area of Focus: Health and the Center of Your Home
We begin and end the month with a new moon. New moon periods are about new beginnings. Mercury also moves forward beginning August 1st, so we get an extra boost after a few days. It's a good month to reflect on what you'd like to begin or transform in your life. The new moon in Leo, late on July 31 (or early August 1 for those on the West Coast of the USA), correlates with the Children, Joy and Creativity gua. The second new moon, on August 30th, in Virgo, relates to overall health, which is the Center of your space.
Leo is a lively and fun sign. It's about lightening up and experiencing joy each day, regardless of what's happening around you. Your Children, Joy and Creativity gua is the right-center of your space, opposite the Family gua. (See the separate article about the Bagua if you are new to this). Enliven this area early in the month. Remove or acknowledge any obvious clutter or obstructions, vacuum and dust, open the windows to allow fresh air to flow through and make sure you have something in this area that lifts your energy or makes you smile.
Your Space Mirrors Your Life
A fundamental feng shui principle is that the energy of your space mimics the energy of your life. Crowded or cluttered spaces reinforce a lack of free-flowing chi throughout your body as well as your life. It's very easy to overlook anything and everything that's been in place for 30 days or longer. This could include:
Paper piles in the form of mail, magazines, catalogs
Photos that you don't know what to do with
Books you're intending to read but haven't gotten around to yet
Books you've already read and haven't given a home or given away
Clothing you're intending to put away or sort out when time allows
Knick knacks that you really don't care for yet haven't given away
Catchall baskets or containers that sit full month after month
Repairs that need to be done that you're avoiding or ignoring (It's OK if they are on your "list" for the future)
Other … you name it!
Keep the Energy Flowing
It's best to keep the energy flowing in your home and workspace by changing things up and moving items regularly. You can do this each month by giving attention to the area of your space that correlates with the energy of the new moon. Doing so keeps things manageable and helps to prevent overwhelm.
If you're someone who's waiting until you have the time to apply feng shui principles in your home or workspace, start small. Your actions will add up over time. Five or ten minutes of ongoing focus can make a big difference.
Set Your Intentions
Follow your spruce-up with a brief meditation or focus around makes you happy. Give yourself permission to experience more joy each day. Lightening up your space will help you to lift your energy. As you remove blocks and obstacles from your space, you're freeing energetic channels to allow more of whatever you want to flow into your life.
Find Your Voice and Speak Your Truth
From a health perspective, the Children, Joy and Creativity relates to your mouth, teeth, throat, lungs and large intestine. Quite a bit! It's about finding your voice and speaking your truth. The same goes for your children. If you find yourself squabbling with your children, reenergize this area of your home and set clear intentions for more joyful relations. Do the same if you'd like to improve or strengthen related areas of your health.
If you're retired or nearing retirement, the quality of energy in this area influences this phase of your life. Lightening up this area of your home or land might bring new ideas, insights or solutions to you.
Influence of the Five Elements
The Children, Joy and Creativity gua is governed by Metal energy in the Five-Element System. Metal is strengthened by Earth and depleted or weakened by Water, Wood and Fire.
Metal energy is represented by:
White, grey and pastel colors
Round and oval shapes
All metals … gold, silver, brass, aluminum, etc.
Marble, granite, and flagstone
Natural crystals
Earth energy is represented by:
Yellow, brown and earth-tones
Pottery, earthenware, adobe and brick
Square shapes
Low to the ground, heavy furniture
Seashells
Although all five elements should be included in each gua, the Children, Joy and Creativity area should have a higher proportion of Metal and Earth while also feeling energetically balanced. If your space feels great and you enjoy spending time there, chances are it's well balanced.
Check-in at the Full Moon
The full moon is August 15th. This is the time to recall the intentions you set at the beginning of the month and notice how they're unfolding. Look for evidence that what you asked for is taking root. The signs might be very subtle at first and easy to overlook. Be patient. Quiet your energy, suspend judgment and be open to things happening in ways you didn't anticipate. Signs that your intentions related to Children, Creativity and Joy are taking root:
You're doing things you enjoy
You're exploring the unexpected
Something fun happened or you're laughing more
You're connecting or reconnecting with people you enjoy
Solutions to problems are emerging
You're doing innovative projects or tapping into your imagination
You're discovering creative outlets
Relationships with your children are improving
Life feels more whimsical
You feel lighter
You're more optimistic
You're happier
If you'd like help evaluating your Children, Joy and Creativity gua of your home or office, contact Peg. A floor plan and some photos or a short video would be helpful.
---
August Special … Children, Joy and Creativity Gua Assessment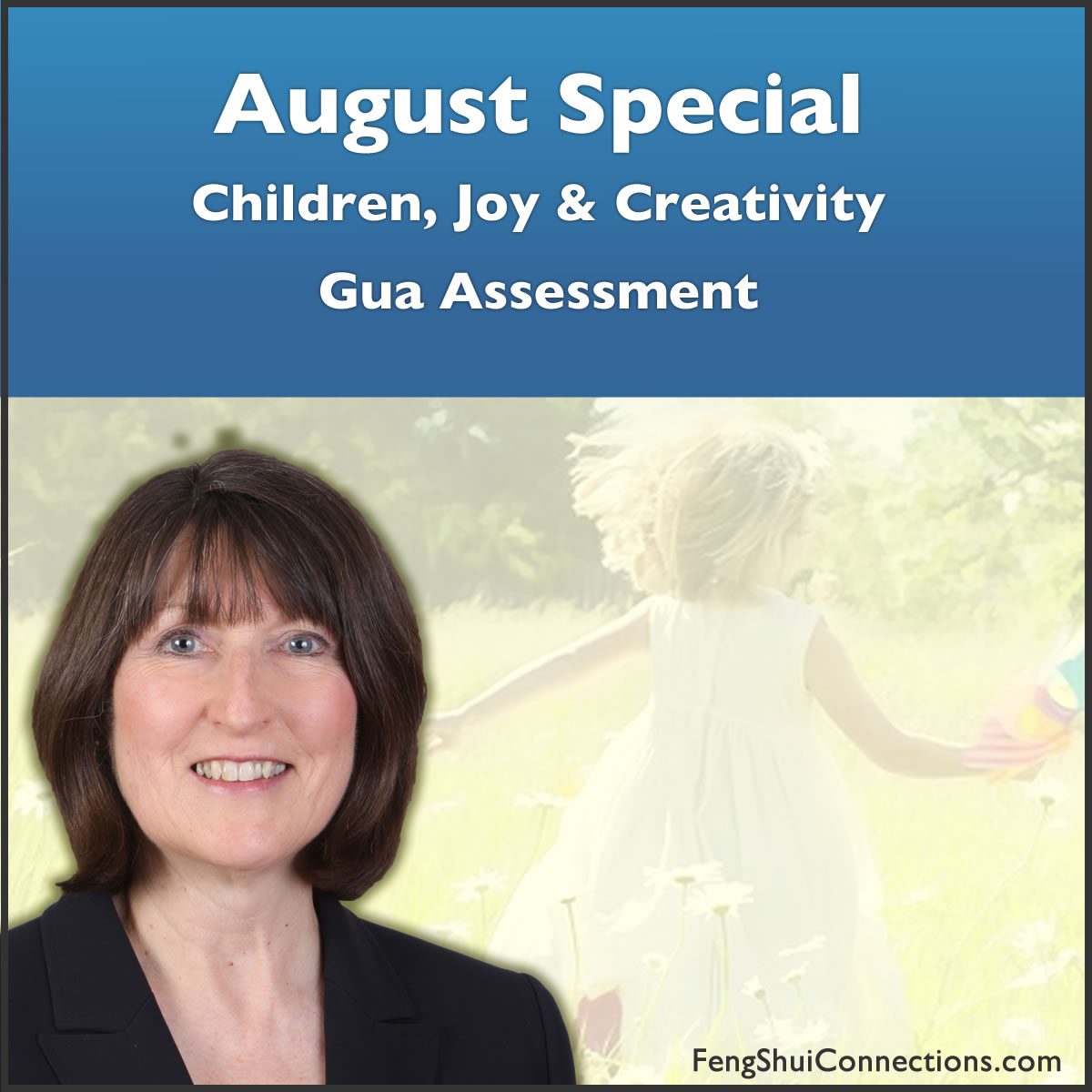 If you'd like to explore ways to find your inner voice or bring more Joy to your life, let's explore your Children, Joy and Creativity gua this month. Send Peg some photos or one or more short videos (from your mobile phone) of the right-center area of your house, your master bedroom and every room in your house, as well as the right-center area of your land. Patterns tend to repeat themselves and it can be a challenge to analyze your own space.
Send your photos or videos to peg@fengshuiconnections.com. She'll help you to identify the blockages and provide suggestions that align with your intentions.