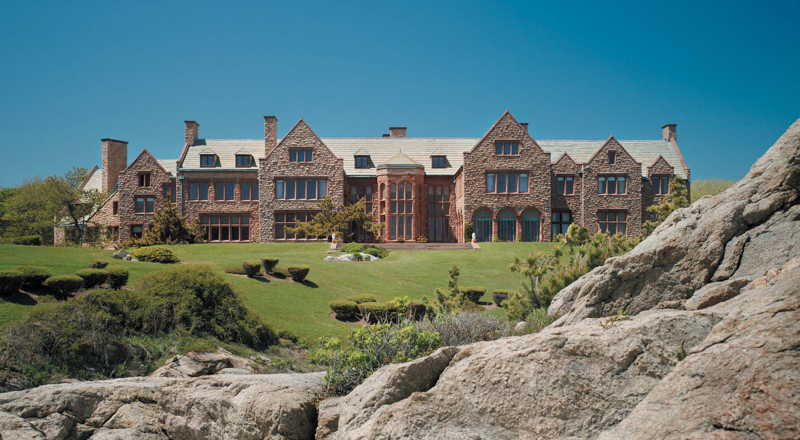 Recently my husband, our daughter, and I spent a weekend with family and friends in Newport, RI. We've been to Newport before and we always love it. One of the highlights is touring the mansions. On this trip we toured Rough Point, Doris Duke's former residence.
Doris Duke was an heiress, philanthropist, and art collector, among many other interests. She spent summers in her house until her death in 1993. Her charitable foundation supports the arts, child well-being, health and medical research, environmental causes, and building bridges of understanding among people.
As you might guess, Rough Point is an ocean-front property along a rocky coastline.
You enter Rough Point from Bellevue Avenue, through an iron gate that opens to a wide, curvy driveway. The grounds are spacious. The entrance is open and welcoming. The staircase is circular. The public rooms are large and towards the front of the house while the family's private space is smaller, cozy and more intimate. Duke was an avid world traveler. Her collection of furniture, art and porcelain is displayed throughout the house, as it was used and incorporated into her life. Modern additions, such as a microwave oven in the kitchen, are also a part of this house, since Duke lived there until her death in 1993.
Newport was a summer retreat for many prosperous families during the Gilded Age (post-Civil War to the turn of the 1900's) and beyond. The season was typically eight weeks. Staff would arrive early and prepare the houses. Once the families arrived, there would be endless parties, sports and social events. Each of the Newport mansions has similar attributes to many prosperous areas and settings. The houses are set back from the road and have long, curvy or circular driveways. The entrances spacious, the rooms large and the staircases are usually grand. There was ample room for elaborate gatherings. The lawns are spacious, and the gardens are gorgeous. The homes that are oceanfront draw vibrant energy from the sea.
I find that Newport is always fun to visit. When visiting the mansions, you have an opportunity to step into life during the Gilded Age and consider what it was like from multiple perspectives. When you have time, take an extended "behind the scenes" tour of some of the properties too. You'll learn more about the families who lived there.
Even though your life may be far removed from life in the mansions, you can leverage the positive feng shui patterns and replicate them in your space:
Create a welcoming entrance.
Live with furnishings and items that you love.
Be creative and unique. Put your heart and soul into your space.
Organize everything and give everything a home.
Let go of clutter.
Planning a trip to Newport? Learn more here: https://www.discovernewport.org/things-to-do/mansions/
Learn more about Doris Duke's Newport Restoration Foundation http://www.newportrestoration.org/preservation/