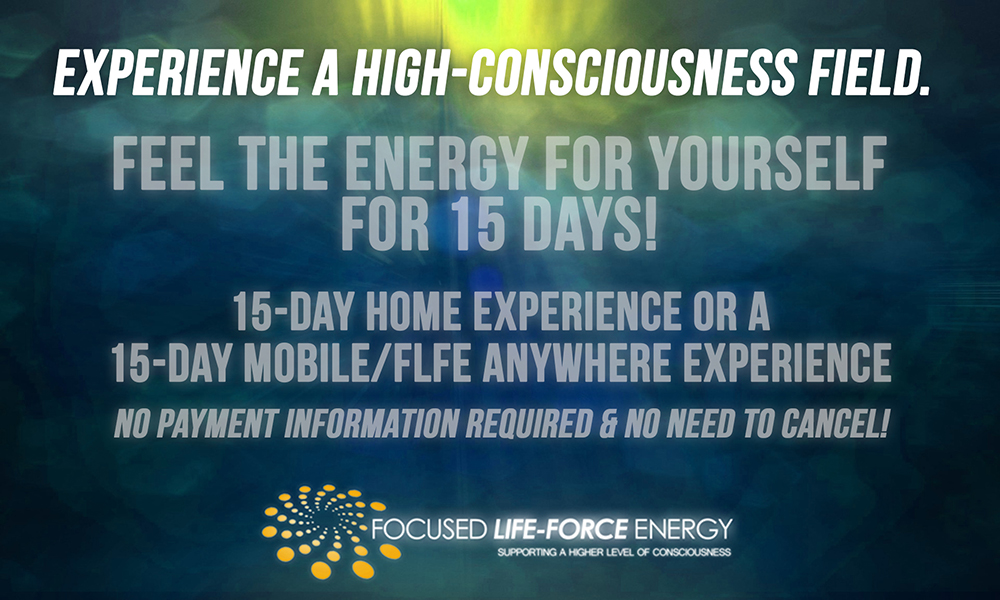 If you're a Focused Life Force Energy subscriber, are you aware that you can do one 30- minute environmental boost for your property daily? You can also do one daily 5-minute environmental boost via your phone or personal object!
When you give your environment a boost, it's raised to 600 on the Hawkins Map of Consciousness. This is the level of Peace and the feeling is that of bliss.
To give yourself a daily boost, go to https://bit.ly/2sylPyP and Login to your account. The Login tab is on the top bar on the right.
After you login, click on the orange "Take Me There" box.
Next, scroll down the My Properties box, select the property you want to Boost, and click on the Boost button. On my screen, it's the third button.
To boost your mobile phone or personal object, click on the respective box. Select your phone number or personal object and give yourself a 5-minute boost!
I have a reminder on my daily To Do list to remind me to take advantage of this gift.
Do a 15-day Free Trial
If you aren't a subscriber, check out the service and give yourself a FREE 15-day trial for your home or phone, and then another 15-days on whatever one you didn't choose the first time. This link will take you to FLFE's Home page: https://bit.ly/2sylPyP where you'll find a treasure trove of information.
Energized Food Feature
The folks at FLFE are adding more and more benefits to this service. After a beta test, they recently added the "Energized Food 3.0" program to every free trial and subscription. This is a program that increases the life-force energy of the food that's eaten in the FLFE field. As a result, this feature might help you to absorb more vitamins, minerals and essential compounds from the food you eat.
FLFE Harmonizes EMFs
One of the big benefits of FLFE is that it harmonizes the EMFs in your environment. This is huge! The impact of EMFs on your health is a growing concern that even the mainstream media and health practitioners are beginning to embrace. After being cast aside for years, people are beginning to wonder if there might be something to the issues that have been raised.
I've been hearing from more and more people who are noticing that they're sensitive to EMF fields or they're concerned about their exposure to Wi-Fi and the anticipated rollout of the 5G network.
Some of the symptoms for people who are sensitive to EMFs or have been overexposed to them, include:
Feeling anxious most of the time
Ongoing restlessness
High levels of stress
Headaches
Poor sleep
Irritability
Lack of concentration
Brain fog
Forgetfulness
Taking longer to remember things
Physical discomfort
If you recognize some of these symptoms in yourself, I recommend that you do a FLFE 15-day Free Trial and turn the EMF programs on and off to see if you notice any difference in how your feel. It's worth a try.
Learn more about FLFE's EMF Harmonization program here: https://bit.ly/2ILJIaq.
You and your well-being are worth it.
Learn more about FLFE's EMF Harmonization program here: https://bit.ly/2ILJIaq.
You can experience FLFE for free for 15 days on your phone or in your home. Then you can get an additional 15-day free trial when the first one is complete. Thus, you can experience the various FLFE programs for free for 30 days. Check out this link to learn more: https://bit.ly/2Q58tDf. Your health and well-being are worth it.


See the FLFE page on my website for more experiences. http://fengshuiconnections.com/focused-life-force-energy/