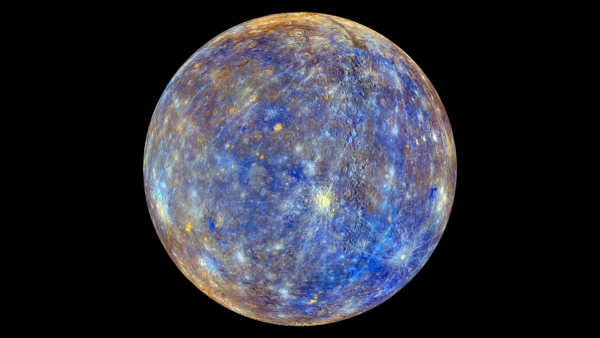 Mark your calendar! Mercury is retrograde, June 18 – July 12 and October 13 – November 3, 2020. (The other 2020 cycle was February 16 – March 10.)
Although Mercury Retrograde often gets a bad rap, I've come to love Mercury Retrograde periods. They are a wonderful time slow down, reflect on what's happening, clean things out and reconfigure places and situations. Even with our Covid-19 extended "home hibernations," days can get quite busy and fill with many activities. I noticed this after the first three weeks of our quarantine. At first, my calendar was suddenly free of obligations. It felt wonderful and expansive. I was getting many extra projects done. Then Zoom invitations and meetings appeared. Before long, I was faced with conflicting opportunities and my calendar was feeling crowded. I had to decide where I would place my focus. I'm learning how to balance things in our physically distant and virtual world, while continuing to carve out enough time for myself.
Mercury is the planet that rules communications. Three to four times a year, it appears to back up, for about three weeks. When this happens, communications go awry, mistakes are made, electronics and other things break down, more accidents occur. People get confused and tensions rise. Rather than push forward, we're meant to pause and take a break. It's a great time to work on your house, yard, or office!
This Mercury Retrograde encompasses Father's Day, the beginning of summer, the 4th of July and the traditional summer vacation period for many people. Although things will be different this year, I encourage you to find ways to:
Are you feeling that it's not a great time to do these things? Think again. You just might need to re-think how you can do them in a new way, to figure out how to do these things at home, close to home, or wherever you are. Last month on Mother's Day, I treated myself to a spa day at home. It was perfect! This month, on Father's Day, you might come up with some extra special ways that the dads in your life can also experience a special and relaxing day.
Have you been making progress with home-related activities during the past few months? I'm noticing that many people are clearing clutter to the point that local dumps and recycle centers have had to close early due to too much trash. This happened in my current town as well as our former town. Don't let that stop you though! The dump closings are short-lived. Many towns are readjusting. They're figuring out how to deal with all the extras.
Some Mercury Retrograde favorable home activities are to:
Refresh a space
Repair something of value
Refinish furniture
Repaint, Renovate, or Reconstruct any area
You might also spend some time rethinking creative activities, such as:
Rediscover a former interest … my husband restrung his guitar recently
Record music or video
Rewrite something
Repurpose one or more items
Recreate a space for yourself or other family members
Rehearse with a group online
For spiritual development, it's an ideal time to:
Retreat and reassess
Read items of interest
Relate to stories and examples
Remain grounded and centered
Reflect deep within yourself
Release fears, non-beneficial beliefs and trapped emotions
Reconsider your choices, if you're not happy or you're not living in joy.
Outside, you might:
Repot plants
Remove debris or trash
Repair a gate, a wall, a fence
What activities can you think of? There are ample ways to have a successful and productive Mercury Retrograde period at home or close to home.