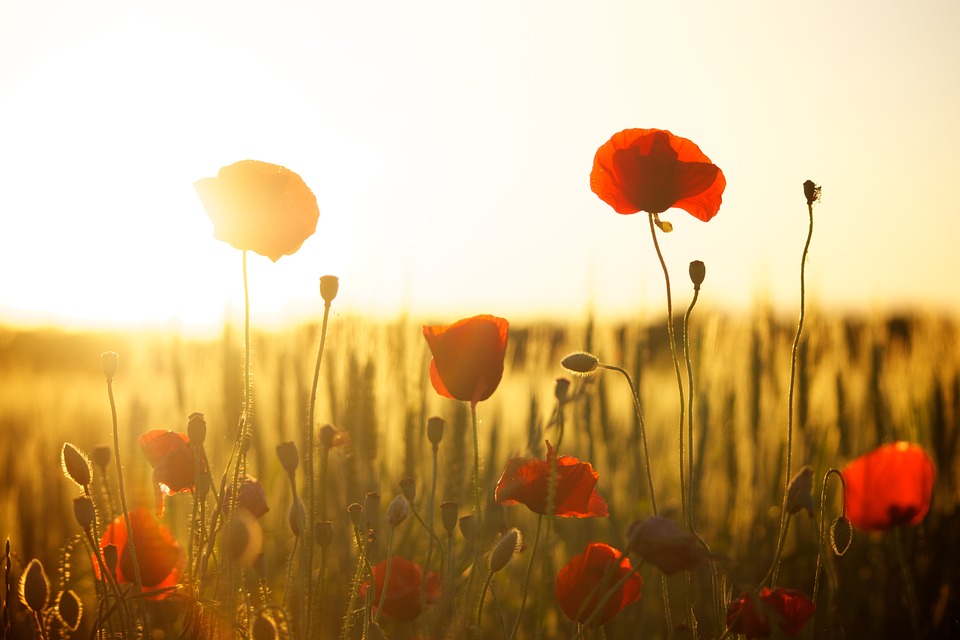 June 2: New Moon and Solar Eclipse in Cancer
July 7 – 31: Mercury Retrograde
June 16: Full Moon and Lunar Eclipse
July 31: New Moon in Leo
July Area of Focus: The Family Gua
We have two new moons in July this year. The first is on July 2 and the second is July 31. I'll write about the July 2 new moon this month and also provide a brief synopsis about the one for July 31.
The July 2nd new moon and solar eclipse in Cancer correlate with your Family gua. This is the left-center of your home, land, workspace and every room in your home when you divide it into a grid of nine spaces similar to a tic-tac-toe board.
Set an intention for strong family ties (or whatever you desire) on July 2. It would be great to spend some time meditating or reflecting about what this means to you as well. I was recently reminded that whenever what you desire is not showing up, what you believe is. This is quite profound as you are always manifesting what you believe. It's how energy works. You attract whatever you're energizing, whether you want it or not. When your desires and beliefs are in alignment, you get what you want. It seems simple enough, right? Daily practice can help to make it so.
The Family gua is energized by yang Wood energy and the Thunder trigram of the I Ching. Wood energy is the vibrant energy of trees, flowers and plants. Similar to trees, the family roots can run very deep. Patterns are passed from generation to generation and they tend to replicate and repeat themselves until they are stopped or cleared.
The feng shui color associated with the Family gua is a vibrant green. Green is a color that is also associated with health and well-being.
The Five Elements and the Family Gua

Wood energy is strengthened by Water and depleted or weakened by Fire, Earth and Metal.
Wood energy is represented by:
· Green and blue
· Vertical stripes and tall columns
· Vertical rectangles
· Trees, flowers and plants
· Floral fabrics
· Cotton, linen, and denim fabrics
Water energy is represented by:
· Glass and mirrors
· Reflective surfaces
· Black and very dark shades
· Wavy and free form patterns
· Silk, velvet, gauze and chiffon fabrics
· Water and water features
The Family Gua and Health
From a health perspective, the Family gua correlates to your liver organ network as well as your feet. Astrologer Madeline Gerwick recently wrote about being careful with your feet during July. There are some astrological patterns that indicate potential for problems. The patterns form a backdrop. They don't mean that a particular situation will occur. When it does, however, the broader cycles help to explain what's happening.
Your liver network includes your gall bladder. They're the organs responsible for processing and digesting the substances you take into your body. Your liver stores and delivers nourishment to your body. It aids in metabolism of carbohydrates, fats and proteins. It also regulates your blood sugar and filters toxins from your blood. It carries big responsibilities.
Your feet stabilize and support you from the ground up. It's important to draw energy from your feet as you activate the flow of chi throughout your body. Problems with your feet can represent deep-rooted or unresolved problems with family. I've seen this throughout my practice. I've also come to learn that your "work" is always on yourself. You can't change family members. It's much easier to accept them as they are, even if and when you don't agree with them. Anger, which is Wood energy out of balance, is an emotion that is tied to the family gua.
I come from a large family. I say it's like a microcosm of the world. So many things happen in each family and the patterns run deep. Families are fertile training grounds or laboratories for each of us. The good news is that you can change and transform patterns. Adjusting the feng shui of your house and other spaces, along with a variety of energy practices, can help you to shift whatever you want in your life.
The Thunder trigram of the I Ching correlates with the eldest son in the family. The position of the eldest son is one of responsibility and breakthroughs. The eldest son learns the way by forging ahead, making progress (and mistakes) along the way. The Thunder trigram is represented by a solid line on the bottom and two broken or dashed lines on top.

You Family Includes Your Ancestors
Family refers to your parents, siblings, grandparents and ancestors. It's your family of heritage and the foundation from which you operate, as signified by the solid bottom line of the Thunder trigram.
If you'd like to strengthen family relationships, the Family gua is a worthwhile one to adjust this month. Begin by removing clutter … things that are taking up space (and therefore energy) that you don't love or use. Next, give the area a through cleaning. Remove dust and cobwebs, wash the windows, vacuum high, low and deep into the corners. Get your space sparkling. After doing this it's a good time to enhance the area.
Connections Between the Family and Children, Joy and Creativity Guas
While working with a client years ago we uncovered a huge block in the Family area of the Children & Joy gua of their house. They had a beautiful hutch that was a gift from an extended family member. The only problem was that they didn't ask for the piece of furniture and it didn't suit their style. As a result, they felt huge tugs of angst every time they looked at the hutch. It was beautiful, yet they didn't like it and didn't want it. They also didn't want to upset the gift-giver.
I find that this is a frequent pattern. People hang onto things out of fear that they might upset someone else. When doing so, you block your own forward movement. In the situation above we identified a family member who would love and appreciate this piece of furniture. Not long after moving the piece along, the couple also conceived a child. This was one of their longstanding wishes. The two guas are opposite each other and connected. In this situation, they removed a block from the Family area of their Children and Creativity gua. Once they did this, they made progress in both areas of their lives.
9 Tips to Enhance Your Family Gua
Remove anything that reminds you of stressful, unhappy or difficult times.
Place photos that remind you of happy people, occasions and circumstances.
Trim and/or repot your plants … remove dead and overgrowth.
Add a vase of colorful fresh flowers. This always uplifts a space.
A vibrant tree image, picture or sculpture can help strengthen family ties.
A bright lively green (or blue) adds a positive life-force.
Include fabrics with vertical stripes, flowers, the colors green or blue.
Hang a mirror that reflects something pleasing.
A water feature is a nice enhancement too.
The July Eclipses
Eclipses are periods of major change. This month we have a solar eclipse accompanying the new moon on July 2nd and a lunar eclipse along with the full moon on July 17th. Eclipses come in pairs and occur six months apart. Our last eclipses were in January. The summer eclipses are about over-responding to news and excessive responses to situations. This is a good time to notice what's happening while maintaining a neutral response. Avoid posting anything negative to social media sites. If you find yourself overly obsessed or worried about any situation, get some help to let it go. Doing EFT or having an Emotional Freedom and Healing session (EF&H) could help you release long-standing or entrenched patterns. http://fengshuiconnections.com/emotional-freedom-and-healing/
Although these eclipses won't be visible from North America, when an eclipse falls within important areas of your astrological chart, the energy can impact you up to 30 days before and after each eclipse, and sometimes longer.
The July 2nd solar eclipse will be visible from parts of South America and the July 17th lunar eclipse will be visible from most of the world, except North America, the Artic. Greenland and parts of northern Russia.
Mercury Retrograde
A heads up! Mercury will be retrograde from July 7 -31 … so most of the month. Purchase your electronics and sign your contracts before and after this time. If you must do so within this three-week period, do so on a good energy day. It would be smart to read the fine print and also get a service contract. Personally, I find it easier to lay low during these cycles and use them to clean out and catch up. This month would be a good month to have some fun rather than plan on doing a lot of business.
Mercury rules communications. During Mercury Retrograde periods, communications tend to get mixed up. It's easy to misunderstand, overlook details and miscommunicate. It's also a time with more accidents (miscommunication) and technology breakdowns. It's best to avoid signing contracts (including marriage) and purchasing electronics (including cars). It is a period to reduce your commitments and allow more time in your schedule. Avoid getting angry if people make mistakes, cancel dates and appointments and get mixed up. It's normal during these cycles.
Mercury retrograde is an excellent time to renew yourself, repair what's broken, redecorate, make renovations and basically re-do anything … as long as you're not signing agreements or purchasing electronics. Get this part done ahead of time. It's a good time to read and study too. Catch up on projects you've set aside, and you've been meaning to do.
Since it's summer, July will be a good month to relax. Notice what's happening around you while avoid getting pulled into or caught up in any drama. Notice it while setting it aside. Things will go much smoother if you do.
July 31 New Moon in Leo: Refresh your Children, Joy & Creativity Gua
Our second new month of the month will impact August energy. It falls in Leo, a lively and fun sign. It correlates to the Children, Joy and Creativity gua. This is opposite the Family gua, on the right-center of your space. I recommend giving this area some attention after the July 17th full moon. Thinning out and cleaning the right-center area of your spaces will help to lighten things up and bring more joy to your life. Once you get this done, add or include some things in these areas that bring you joy. I'll write more about this in August.
If you'd like help evaluating your Family or the opposite Creativity gua (or any area) in your home or office, contact Peg (peg@fengshuiconnections.com). A floor plan and some photos or a short video would be helpful.
---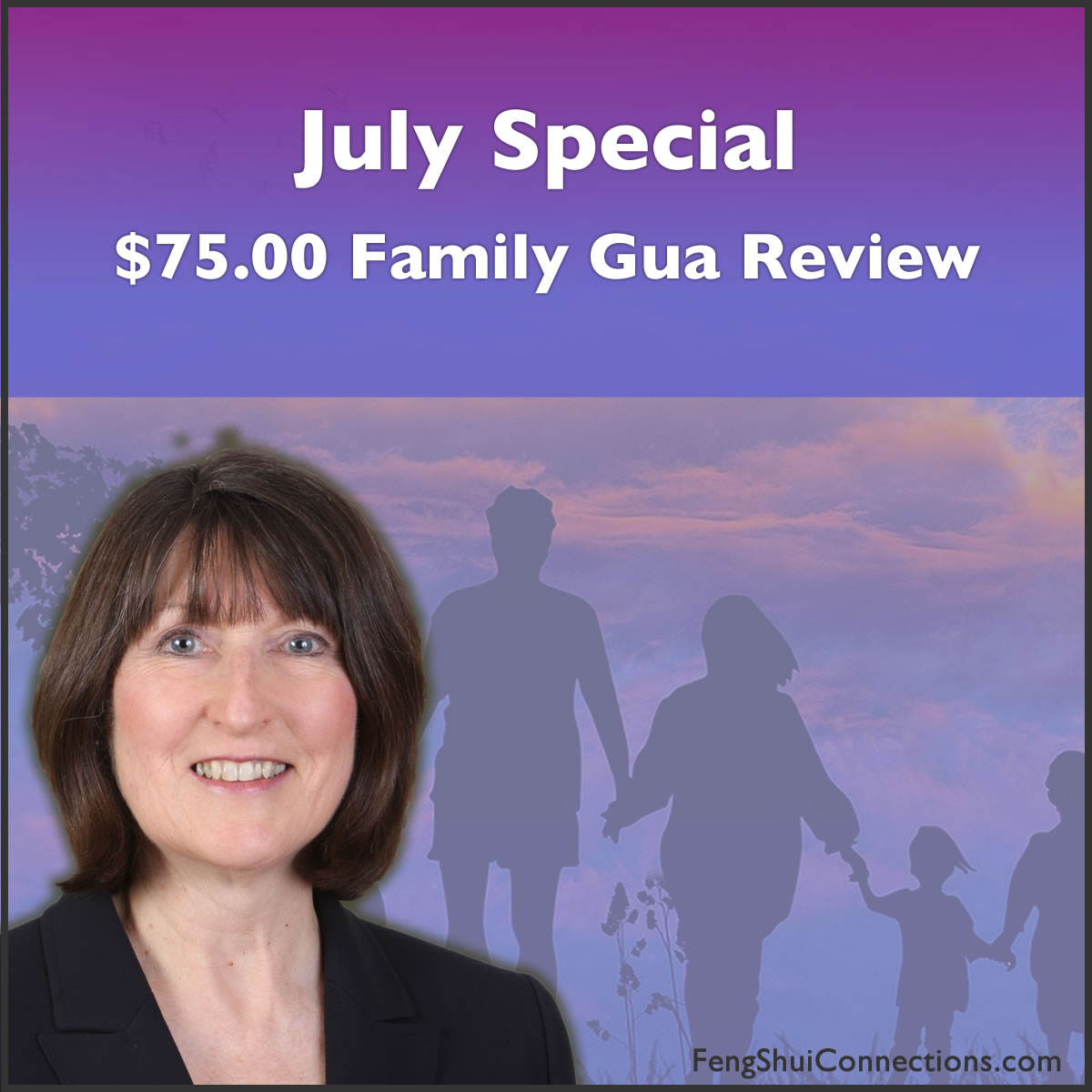 Family patterns and roots run deep. If you'd like to shift longstanding patterns, Peg can help you explore your Family gua this month. Send some photos one or more short videos (from your mobile phone) of the left-center of your house, your master bedroom and every room in your house, as well as the left-center of your land. Patterns tend to repeat themselves and it can be a challenge to identify the patterns in your own space.
Send your photos or videos to peg@fengshuiconnections.com. She'll help you to identify the blockages and provide suggestions that align with your intentions.
Contact Peg to schedule or for more information.