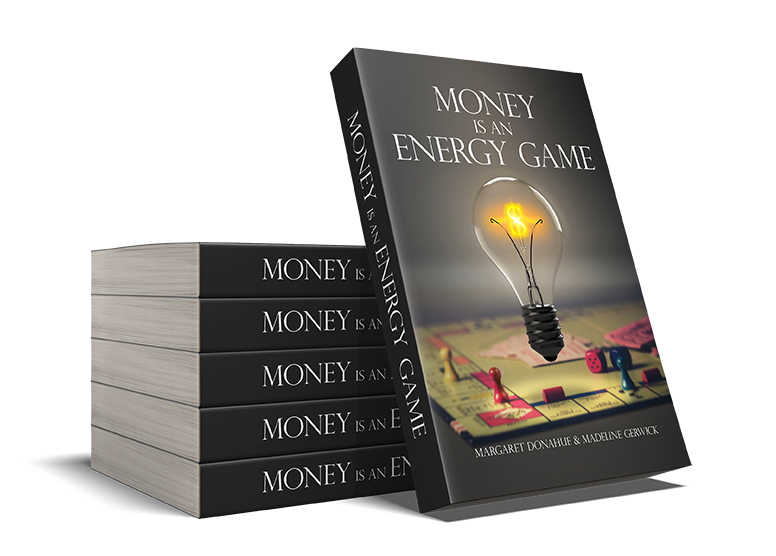 Money Is an Energy Game, my book with Madeline Gerwick, is in the process of being printed. We expect print copies to ship in late June.
Introductory pricing is available through May 9th. You'll save 20% by pre-purchasing a print copy and 30% when you get the Kindle version. Regular pricing goes into effect on May 10th. Go to www.moneyisanenergygame.com, if you're interested.
The e-version of our book is nominated for a Coalition of Visionary Resources (COVR) Award! Voting is underway until May 16th We'd be honored if you vote for the Kindle version of Money Is an Energy Game. To vote, go to https://www.surveymonkey.com/r/S95WNL9. While you're there, check out the other books and products too. There's quite a few!
Have you been paying attention to the Energy Inventory program Madeline and I have been writing about each week? This is an easy program to do during our home quarantine periods. All you have to do is use the worksheets to track patterns related to one topic each week. We have two more to go. We present the complete program in Chapters 11 -16 of the book. There's one chapter on each of the topics: Sleep, Food, Exercise, Feelings, Thoughts and Spirituality. Save the emails and links or print the worksheets to refer to them at any time.
Recently, I was interviewed by Stephanie Moore, author of the Blissful Blue Jays Blog. Read the interview here: https://bit.ly/2YbvvNh.
Here's what Maureen St. Germain has to say about the book:
Money Is an Energy Game is Brilliant! Loaded with current wisdom, updated scientific proof, and step-by-step instructions, this book is a vast resource of new ideas and well-respected ideas from many authors. Using just one of the hundreds of tools and tips contained within this gold mine would cover the cost of the book, give you peace of mind, and with practice, security in working with money. Even the title suggests the wisdom behind the joy in playing this game.
Get this book now. There is nothing like it anywhere. It could easily be called an encyclopedia so thorough is Gerwick & Donahue's treatment of this subject.
Maureen St. Germain, The Practical Mystic and author of Waking Up in 5D
Maureen's Golden Bowl Meditation and Madeline Gerwick's Good Timing Calendar are also nominated for COVR Awards. Check them out.
We'd love Book Reviews on Amazon!
If you've read Money Is an Energy Game, enjoyed it, we'd be honored if you place a review and some comments on Amazon.com. This will give our book more visibility and help other people who might be interested. Go to: https://www.amazon.com/dp/B082Q6S344 and scroll to the bottom of the page to leave your review. Thank you! We really appreciate it.