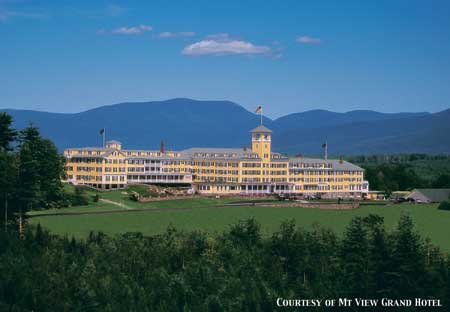 I've always been fascinated with New Hampshire's Grand Resort Hotels. During the peak period of 1825 – 1920, there were about twenty Grand Hotels, among over 200 hotels, inns and guest houses. Today, four remain: The Mount Washington Hotel in Bretton Woods, the Mountain View Grand Hotel in Whitefield, Wentworth By the Sea in New Castle, and The Balsams in Dixville Notch. Although currently closed, investors are in the process of gathering funding to renovate and reopen The Balsams. Each of the four hotels is on the National Register of Historic Places.
The Grand Hotels were all inclusive destination resort hotels, typically accessible by train. Each hotel could accommodate at least two hundred guests, many who would come for extended stays. The long, wide, curvy entrances, a feng shui favorite, helped to attract and reinforce positive energy. The settings were idyllic, the grounds spacious, the air clean. Inside, guests enjoyed the elegant décor, comfortable, well-appointed rooms and extensive amenities.
At least three hotels were destroyed by fire, not once but twice: the Pemigewasset House, in Plymouth (1862, 1909); the Crawford House in Crawford Notch (1859, 1977) and the Glen House in Glen (1954, 1893). What an an interesting pattern! Last September a new Glen House opened. It's a beautiful, yet simple, eco-friendly hotel, adjacent to the Mt. Washington Auto road. My husband and I enjoyed staying there for a recent weekend get-away.
We frequently visit the Mount Washington Hotel at Bretton Woods. I've also spoken there at conferences three or four times over the years. It's red roof and white façade, set against the backdrop of the White Mountains, is stunning. The long, curvy drive from the main road to the hotel's entrance is inviting. It's always fun to go inside and roam through the public rooms. This is where the Bretton Woods Monetary Agreement, that replaced the gold standard with the US dollar as the global currency, was signed in 1944. Here's a brief YouTube video about it.
We first visited the Mountain View Grand Hotel a few weeks ago for a brief tour and lunch. I can see why people come for extended stays. The view toward Cannon Mountain is majestic. Once you arrive, there lots to do … workshops, spa services, sports, movies, a library, game room and more.
Wentworth by the Sea in New Castle, currently operated as a Marriott Hotel and Spa, is equally inviting. The feng shui pattern is similar. The welcoming entrance, a beautiful ocean setting, and spacious rooms contribute to a relaxed feeling.
Each of the Grand Hotels is worth a visit. While you're there, reflect on the history of the space, the energy of the location, and the feng shui qualities.
Learn more: