Venus Moves Forward and Mercury Retrograde Begins
2018 has been a very active year as we continue to undergo huge shifts in consciousness. As the changes accelerate more and more ugliness comes to the surface. The old systems must break down and dissolve before new and viable structures emerge and take root. It's necessary for all of this to come out so that we may experience a peaceful and loving humanity. It's possible and it's happening … although at times it feels just the opposite.
During spring and summer, we experienced five months of slow, stuck energy. Things weren't moving, and people were frustrated as they tried to push initiatives forward. The time was meant for you to slow down, clean out, and transform the old … unproductive thoughts and patterns, clutter, relationships … whatever wasn't working in your life. If you made progress, you may be having an easier time now. If not, continue to notice what shows up and release what's not working. Let go of all struggle.
On November 16th, Venus, the planet of love and money moves forward. She's been retrograde since October 5th. You may find that you're clearer about what you value, the relationships that you hold dear and the role of money in your life. Money is energy. Your energy influences how it impacts your life. Free-flowing, positive energy within yourself and your home and workplace is most helpful for a free-flow of loving relationships, money and blessings in your life.
Mercury Retrograde November 16 – December 6, 2018
The planet Mercury influences communications. It goes retrograde or appears to move backward three or four times annually for a period of about three weeks. During these cycles, it's best to avoid signing contracts (including getting married), purchasing electronics, purchasing cars, or arguing with people. Communications get mixed up during this time and many misunderstandings occur. It's best to observe these activities, without engaging.
This period is a great time to review and redo things! Most "re" words apply during this three-week period. Give some thought to what you could read, reconsider, recycle, renew, repair, renovate, revitalize. Mercury retrograde cycles are periods to slow down and go inward, rather than pushing forward. You might use this time to do some inner reflection and thoroughly enjoy Thanksgiving without rushing into Christmas. Slow down, breathe, and just "be."
If you're planning to purchase electronics for yourself or for holiday gifts, make your purchases before November 16th or after December 6th.  You'll be likely to have fewer problems.
I like Mercury retrograde cycles. They're catchup and cleanout periods for me, including digital clutter which can easily accumulate. May you make the most of the upcoming Mercury retrograde cycle and have an easy time.
 
---

Recently I learned about FLFE or Focused Life Force Energy, or "Fluffy" for short. This is a high energy wave that is calibrated at the energy of Love, on Hawkins Map of Consciousness.
Since signing up for FLFE I've noticed that I am getting a lot accomplished! I'm also getting more done in less time. My backlogged list of projects is clearing up and things are moving along very easily. One day my husband mentioned that he solved a work problem that no one else in the company could figure out, on the second day. The answer just popped into his head. I said maybe the FLFE wave helped. He said, "it took two days." I replied that it "only" took two days. Who knows, maybe it would have taken a lot longer before he saw the solution.
Everyone can get a free 15-day trial for your home and phone (or another object) ... just not simultaneously. I did my home first, subscribed and later tried it on my phone, and subscribed. Now I can carry a good energy wave where ever I go.
Here's a link to sign up for a FREE 15-day trial
---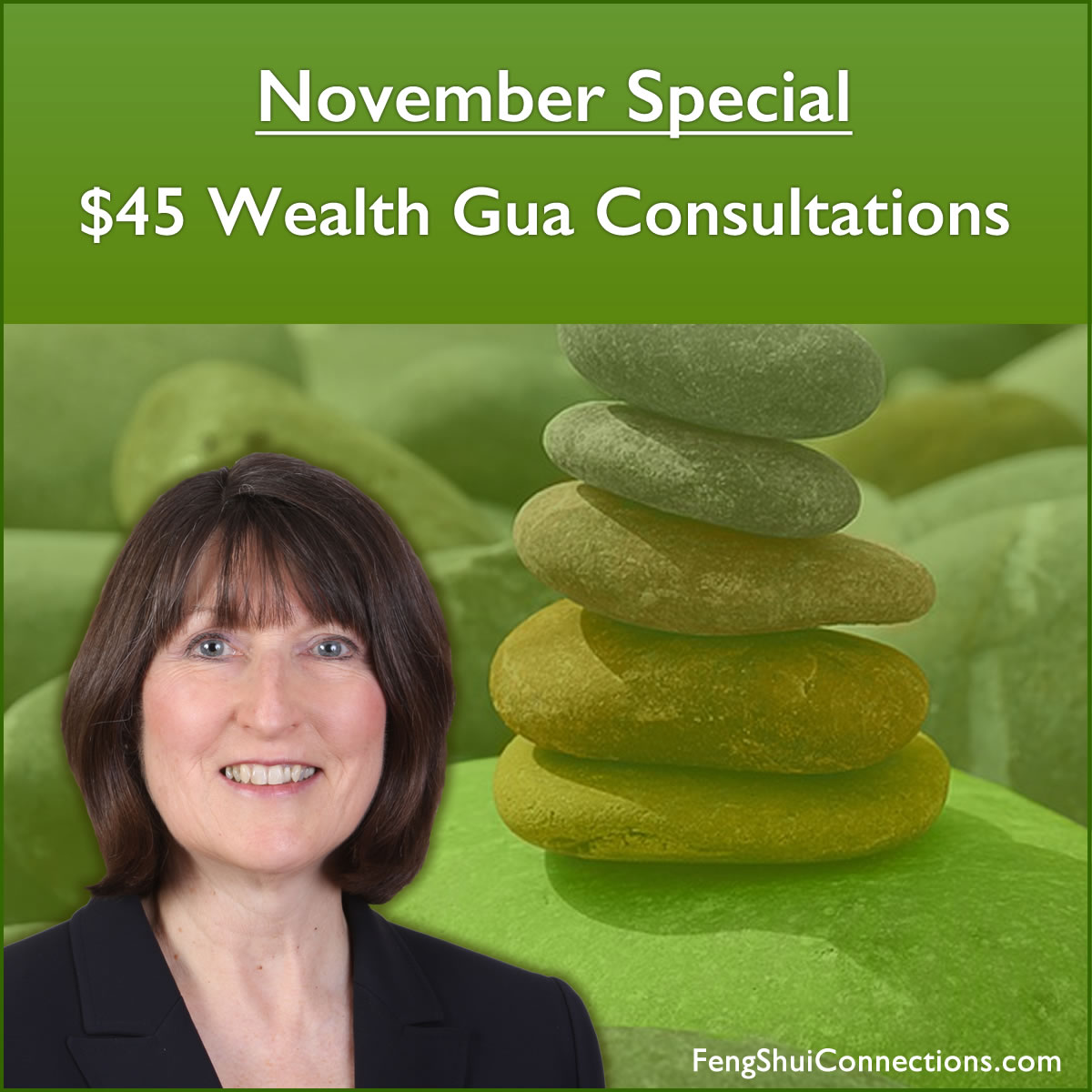 If you'd like help identifying how to revitalize your Wealth gua or any Wealth corner, contact me. During November I'm offering 20-minute Wealth Gua consultations via telephone, WhatsApp or Zoom for $45.00.  You can help maximize our time together by sending a floorplan and/or photo of the area or areas you'd like to assess. If you fill out the audit worksheet, send it along and I'll help you make sense of it. You'll get at least three practical suggestions. To schedule an appointment, contact Peg at peg@fengshuiconnections.com).
Cost: $45.00 for 20 minutes.  Longer sessions will be prorated.
Let me know if you try it out. I'm interested in what you might discover!