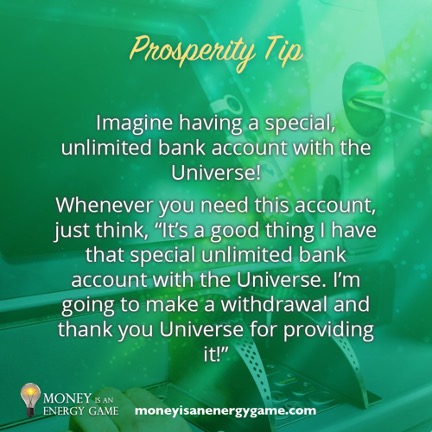 I find that working in harmony with the Universe is a great way to help things go smoothly in my life on a consistent basis. Imagining an unlimited bank account is a favorite techinique. When you combine this with gratitude for already receiving it, magic can happen! Try it out for yourself. The key is to stay in the energy and see yourself receiving whatever it is you're expecting. When you're in the flow, what you ask for, shows up. It may show up in a different way or a different form than you ask for or expect, so be ready for that too. This is the Art of Allowing. It's fun and it's exciting.
If you want to believe that this works, yet you harbor doubt, distrust or fear that it won't work for you, it won't. You'll continue to experience your doubts, distrust and fear. This is because the Universe always delivers what you ask for, which is primarily driven by your emotions. If you recognize these patterns in yourself and you want to change, make it a game. Practice having three times as many positive feelings and experiences every day as negative ones. You might also journal about positive expectations and/or tap your fears away.
Madeline Gerwick and I provide over 100 tips, tools and techniques for attracting more money and more prosperity to yourself in our book, Money Is an Energy Game. We've also done a series of podcast interviews about the concepts in our book that might interest you. There's a wide variety of hosts and porgrams. Select an interview that captures your attention. You might discover a new host or hostess you'd like to tune into regularly.
For ongoing Prosperity Tips, follow "madelineandpegsmoneytips" on both Facebook and Instagram." When you're on Instagram, also follow Feng Shui Connections for the newsletter articles that are posted throughout the month.