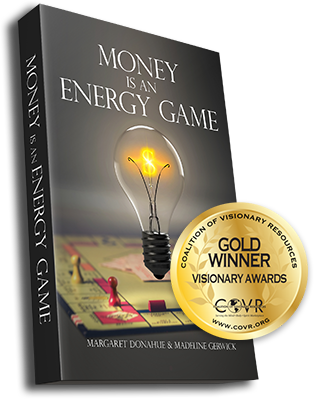 Are you looking for a unique Christmas gift that has the power to transform someone's life? Money Is an Energy Game, is a great choice. The book includes a link to a FREE Emotional Freedom and Healing release to let go of "money blocks," as well as over 100 tools and techniques to put the principles into practice.
Save 25% if you order a copy on Money Is an Energy Game by December 11th! For Christmas gifts, order early or consider Priority Mail so that it arrives in time. Media Mail can take as long as three weeks.

Study Group Invitation
If you're interested in strengthening your manifesting skills, Madeline Gerwick and I are starting a Money Is an Energy Game Study Group in January 2021. Our objective is to reinforce the concepts in the book and to figure out the Prosperity Tipping Point. We're curious about what's required before prosperity becomes a self-generating system for you. In other words, what do you need to do before living a prosperous life just happens for you and it feels natural?
If you've read Money Is an Energy Game, or you're in the process of reading it, this study group might interest you. Participation is free. We anticipate meeting via Zoom for perhaps a half hour a week or every other week. We'd like to keep things simple and play with the relationship between the steps you're taking to increase your prosperity and the results you're achieving.
If you'd like to join the group, send Peg an email and you'll be added to the list.