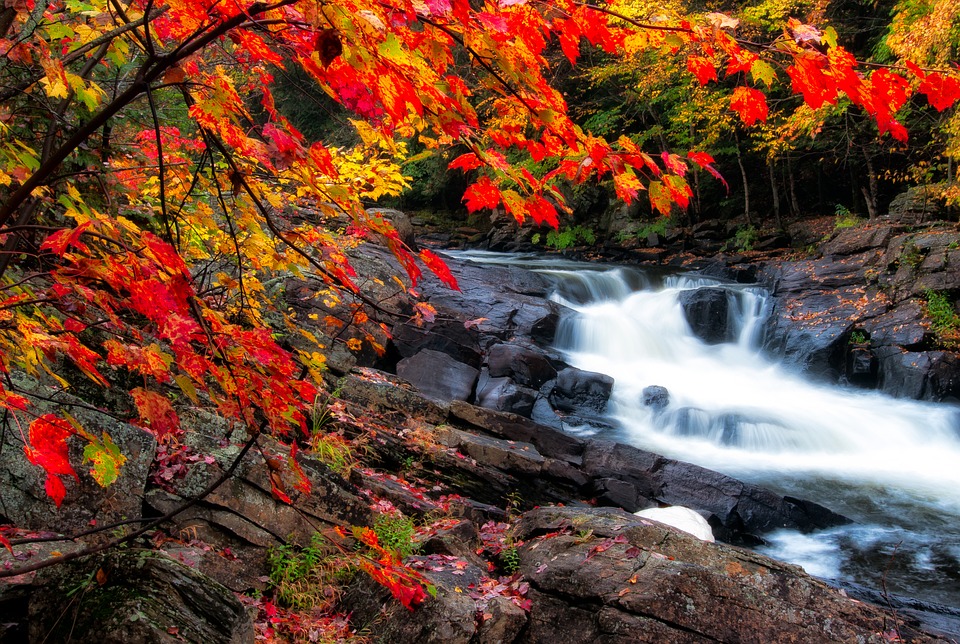 September Feng Shui Forecast: Bring More Joy to Your Life!
August 30: New Moon in Virgo … Strengthen Your Health
September 14: Full Moon
September 23: Autumn Equinox
September 28: New Moon in Libra … Deepen Partnerships
Early September Area of Focus: Health Gua; the Center of Your Home
Mid-Late September Area of Focus: Relationship Gua; the Back-Right Area
Similar to August, we begin and end the month with a new moon. New moon periods are about new beginnings. During September, there's good cosmic energy to support your initiatives. You may find that you have the energy to return to important work and activities. The August 30th new moon in Virgo, correlates with the Health gua, which is the Center of your space. The September 28th new moon in Libra, aligns with your Relationship gua, which is the back-right corner of your house, rooms and other spaces.
August 30: New Moon in Virgo
The August 30th new moon in Virgo aligns with the Center of your home or workspace. Virgo is a sign about order, organization, planning, detail work, and service. When the moon is on Virgo, you may feel more inclined to do practical or logistical work. This is the best time to set your intentions so that they get rooted and established. It's a favorable time to refocus after the summer months, to put things in motion, and to take care of your overall health and well-being.
The Center of your home is the area that aligns with the moon in Virgo. This space influences and reflects your overall health and well-being. The quality of energy in the Center of your home or workplace impacts your entire life and everyone who spends time there. If you do one thing at the beginning of this month, tidy up the Center of your space.
The Center of Your Home: Earth and Fire Energy
The Center of your home is an Earth area, which is strengthened by Fire. It's weakened by Metal, Water and Wood. Although you need all five elements in each area, ramp up the elements that strengthen this area (Earth and Fire) and tone down those that weaken it (Metal, Water and Wood).
Earth energy is represented by:
Yellow, brown and earth-tones
Pottery, earthenware, adobe and brick
Square shapes
Low to the ground, heavy furniture
Seashells
Fire energy is represented by:
Red and all shades of the red spectrum
Lights, candles, sun and sunlight
People and animals
Triangular shapes and diamonds
Electricity and electronics
An important aspect of the Center of your space is that it influences the energy throughout your entire home or workplace. If you feel ungrounded or your energy is scattered, create some open space and cultivate a pleasant feeling in the center of your home or business. Remove all clutter to release stagnation and to open and integrate multiple channels of energy. Then hang a beautiful, round faceted crystal. If you have a table here, keep it clear of clutter. A vase of fresh sunflowers will do wonders to revitalize the area.
If you didn't have a chance to refresh and activate the Center of your home prior to August 30th, do so as soon as you can. Then set your intentions. You'll catch and ride a wave of positive energy and flow that will carry you into the fall.
Eight Tips to Activate the Center of your Home
Clear out dust and any excess or clutter
Hang a picture that reminds you of vibrant health
Place a vase of fresh sunflowers or other flowers
Add a colorful bowl of fresh fruit or vegetables
Hang a beautiful round faceted crystal
Incorporate pottery or ceramics
Utilize square or triangular shaped containers, objects or frames
Add some yellow, red or fall colors
Check-in at the Full Moon
The full moon is September 14th. This is the time to revisit the objectives you set at the beginning of the month and notice how they're unfolding. Quiet your energy and meditate. Notice what comes into focus. Look for signs that what you asked for is beginning to happen. They might be very subtle at first and easy to overlook. Be patient. Suspend judgment and be open to things happening in ways you didn't anticipate. Signs that your intentions related to Health and Well-Being are unfolding:
You have more energy
You're inspired to act
Details are falling into place
Work or a project that you enjoy is emerging
You feel good about your life
You genuinely care about yourself
New health solutions are coming to you
You're meeting or discovering practitioners who can help you
If you'd like help evaluating the Center of your home or office, contact Peg. A floor plan and some photos or a short video would be helpful. Read this blogpost to learn how to Lay the Bagua over your floorplan. http://fengshuiconnections.com/how-to-lay-the-bagua-over-your-floor-plan
September 28th New Moon in Libra
The September 28th new moon in Libra correlates with the Relationship and Partnership gua. This is the back-right corner of your house and every room in your house, as well as your workspace and land. Libra new moons are about balance, harmony and relationship. During this cycle you have a chance to see how your energy is reflected back to you via relationships with others. Notice what is happening and what you'd like to redirect or shift.
Any time after September 15th is a great time to focus on the Partnership areas of your home and wherever you spend time. You might give these areas a good fall clearing as you begin to spend more time indoors.
Similar to the Center of your Space and the Knowledge and Wisdom gua, the Relationship gua is an Earth sector that is also strengthened by Fire energy. Thus, have more Earth and Fire related energy if you'd like to activate this area of your life while minimizing Metal, Water and Wood energy in the back-right corners. Although you want to have some representation of all Five Elements in each area, it can be tricky to figure out the right balance. This is where you tap into your intuition and do what feels good to you. Chances are you'll be on target.
Another aspect of feng shui is that opposite guas work together. Thus, the Knowledge and Wisdom gua, the left-front corner of your space works hand in hand with Partnership, the back-right area of your house, every room in your house, your workspace and your land.
An Opportunity for Self-Reflection
Relationships and partnerships with others provide a good opportunity to do some self-reflection and deep inner work. If the relationships in your life are not going the way you'd like or they are not supporting your dreams or intentions, reflect on ways that you and your energy contribute to the situation and make a commitment to change. Making a few adjustments in your house can help support your efforts.
Here are nine tips for adjusting your Partnership and Relationship gua:
Deep clean the space.
Remove all clutter. Toss out trash. Empty waste baskets.
Move at least 27 items that have stayed put for a year or more.
Add some red, pink or yellow.
Place a happy photo that reinforces the relationship you'd like to have.
Eliminate groups of three: photos of three people, animals, decorations, etc.
Create pairs instead: a happy couple, a pair of birds, two gorgeous flowers.
Add some earthy items such as pottery, seashells.
Hang a beautiful pink crystal or place two pieces of heart-shaped rose quartz.
Set your intention and do a meditation about a relationship or partnership on Saturday, September 28th. You can check back at the October 13th full moon to notice how things are progressing.
---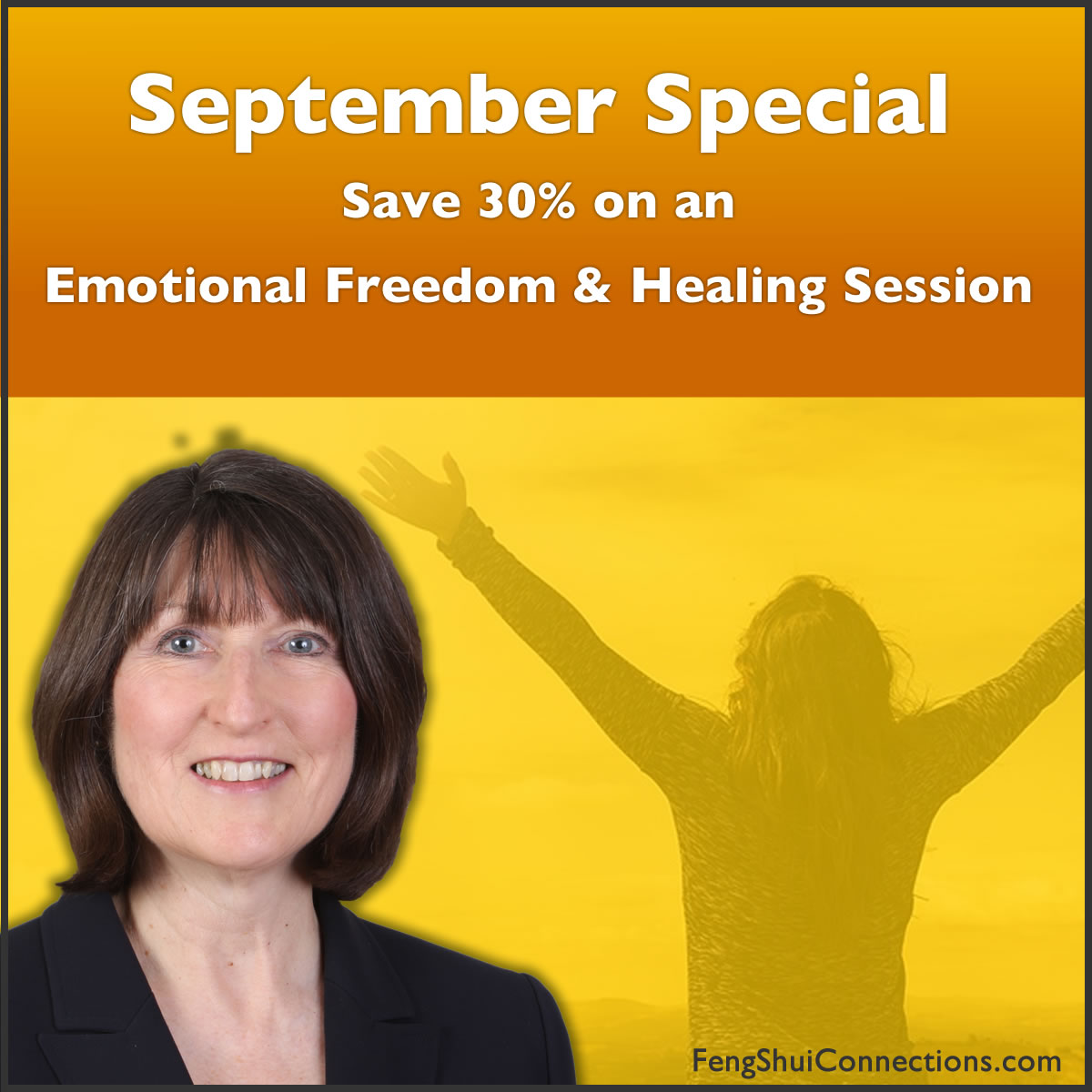 September Special … Save 30% on an EF&H Session as you Clear Anger and Other Low Emotional Patterns
If you find yourself repeating past patterns that keep you stuck or don't feel good, they may be due to emotions such as anger, fear, shame or guilt that you're holding at the cellular level. The good news is that you can release and clear them!
Peg is a trained Emotional Freedom and Healing Practitioner EF&H). EF&H is an acupressure tapping method that releases emotional patterns from your cells. Once you discharge the patterns, they are gone forever. Are you willing to let go of the past and embrace a brighter and more optimistic future? Yes, you can be happy even as the rest of the world is sorting through a lot of chaos. Both scenarios can and do co-exist.
Learn more about EF&H here. Contact Peg for a session at peg@fengshuiconnections.com. If you mention the newsletter special, you'll receive a 30% discount during September. You'll pay $126.00 instead of $180.00.