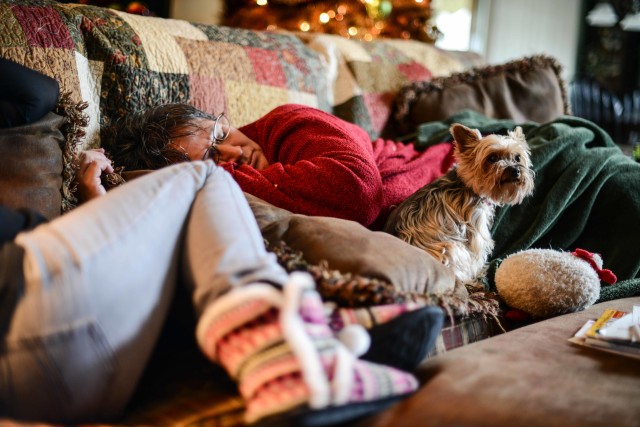 The holidays can be very overwhelming for some people. Are you among them? Rather that feeling joyous and looking forward to spending time the way you like, the holidays bring a sense of unhappiness, dread, or somewhere in between.
Here are some tips to help you have happier holidays:
Clean your space. You'll uplift the energy and things will feel much better. Use natural cleaning products, rather than ones with chemical additives or artificial fragrances.
Put away things that you're not using. This comes under the category of "give everything a home." When too much is left out in the open, a space can feel overwhelming.
Eliminate piles growing from the floor up. They're associated with depression and can drag your energy down.
If you like to decorate, put away at least one thing for every item that you add. To make things easy, store them in the same container or box that you're taking out. That way they're easy to find when you're ready to display them again.
Review your holiday décor as you unpack it and display it. If any item no longer brings you joy, let it go. You can pass it along to someone else, donate it, or sell it. If it's broken and you want to keep it, repair it. If it's beyond repair, toss it out.
A fresh Christmas tree or wreath brings in a higher quality of chi and lifeforce, than an artificial one. At the end of the season you won't have to store it either.
A fresh poinsettia or fresh evergreens or flowers are a great way to shift the chi.
Lights are a wonderful way to shift the energy of spaces. They bring a smile to many faces during the dark days of winter.
Angels, stars, glittery baubles, and other assorted ornaments are a delightful way to uplift a space. If you don't put up a tree you can still display some of your favorite seasonal objects.
Choose who you want to spend time with. There's no need to get stressed about multiple invitations or invitations from people you'd rather not spend time with. Do the holidays your way. It's OK. You'll be happier.
Eat healthy food. You can still indulge and have lots of treats. There's no need to overdo it though. You'll feel better if you practice moderation and only serve and eat what you like.
Define the holidays your way. My husband and I started doing this years ago. Rather than host 25 people for dinner or a gathering we realized that we preferred to have quiet celebrations as a family of three. We look forward to the holidays and spend them the way we like, without any guilt.
If you love the holidays and how they unfold for you, terrific! If they bring you stress, perhaps change at least one practice this year. Identify what causes you the most tension and put a strategy in place to reduce and redirect it. You'll be happier and healthier as a result.