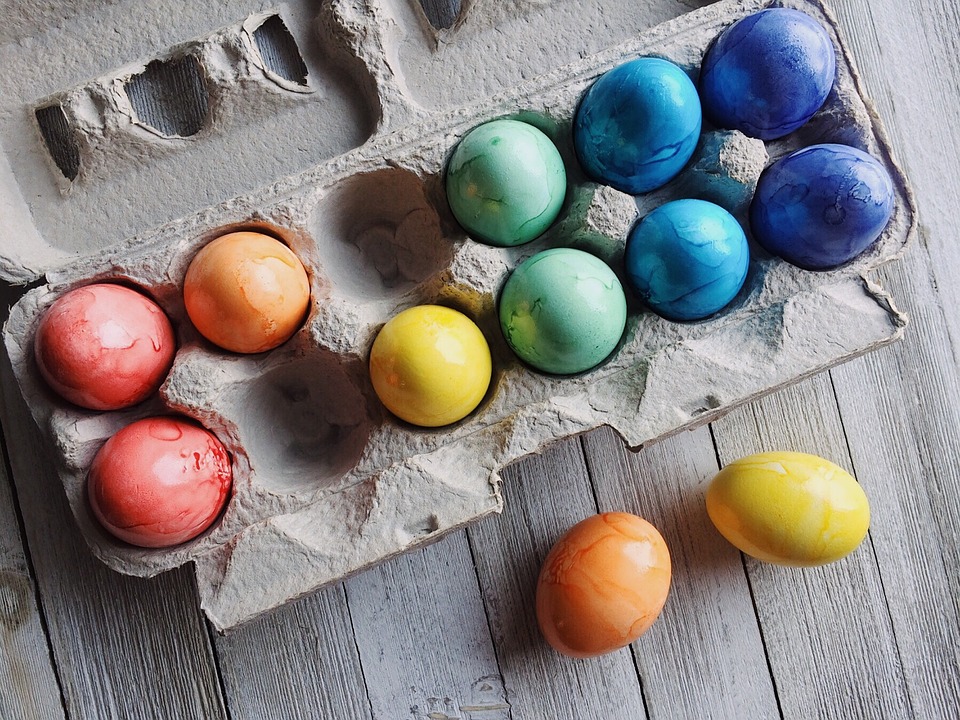 April 5: New Moon in Aries
April 19: Full Moon
April Area of Focus: Career or Life Purpose
It's spring! A time of new beginnings and longer, brighter days. The April 5 new moon in Aries aligns with the Career gua or Life Purpose areas of your home and workspace (the center-front). When you're clear about your life purpose, you're likely to live a happier and more meaningful life. This month clear out old energy and reinvigorate your space and your life. Refocus on meaningful activities … the things you are most passionate about and that inspire you. Sometimes this is your job. Other times, this is about doing more meaningful work or engaging with people and projects that stir your soul.
As I indicate each month, new moons are times of new beginnings and full moons are periods when things come to light and you can see your efforts taking root.
Prior to April 5, clean and reenergize your Career gua and as many Career areas in each room, as you can.
On April 5th, set an intention related to your Life Path and do a meditation to help root your intention.
As the full moon approaches on April 19th and the days that follow, tune in and reflect on how things have shifted and ways your intention is taking root. Consider:
new inspirations or ideas
people and contacts that have come to you
signs, symbols and messages that captured your intention
repetitive thoughts and dreams
your intuition and gut feel
what really brings you joy
The Career or Life Path gua is the center front of your home and every room in your home, business, workplace (or wherever you spend time) when you divide your space into a grid of nine areas, like a tic-tac-toe board. Adjust one or more of these areas this month, if you'd like to:
reconnect with your life purpose
discover your life passions
bring more clarity to your work
revitalize a career or move in a new direction
receive a promotion
get a new job
improve your hearing
alleviate kidney or bladder problems
reduce fear, anxiety or nervousness
Tuning in to the Career-related areas of your home and workplace can help move you in the right direction and bring more meaning and joy to your life.
Assess the Condition of Your Career or Life Path Areas
I encourage you to reflect on the center front of all your spaces, based on how you enter the area. After spending more time indoors over the winter months, these areas may need some attention.
Sometimes very simple shifts in your space can contribute to big changes in your life.
Does your space reflect you? How could it be more appealing?
Do things feel comfortable and safe? If not, what adjustments can you make?
If you notice clutter, remove it.
If things are in disarray, reorganize them.
If anything is broken, repair it or plan to do so.
If the area is dusty, dirty or feels stagnant, clean it.
I've noticed over the years that we're often blind to one's own space. Even me! Take a picture and look it over. Sometimes you see things in pictures that you didn't previously observe. A few weeks ago, I snapped a picture of my desk. It was cluttered and within an hour I was able to clear the excess. I then went on the clear extra paper from my office.
It's common to gloss over items that have been in place for over 30 days. You stop noticing. If you'd like help analyzing or reviewing an area in your home or office, contact me (peg@fengshuiconnections.com ). Send along some photos or a video too.
Career Gua and Water Energy
The Career-gua relates to Water energy in the Five Element system. Water is about flow and movement. From a feng shui perspective, Water energy is represented by:
all forms of water (lakes, rivers, seas, oceans, rain, snow, etc.)
the color black
wavy, undulating shapes
windows, glass, mirrors, shiny and reflective surfaces
art with any of the above.
Water energy is strengthened by Metal and depleted by Wood, Fire and Earth. In your environment, strive for a harmonious feeling. This is one where each of the Five elements is represented and they blend together to create spaces that also feel safe and comfortable. In the Career gua, although Water energy is emphasized, it's balanced by the remaining four elements. If your Career gua has too much Water energy, Wood, Fire and Earth elements will help to bring it into balance. If Water energy is deficient or underemphasized, bringing in color and items that represent Water or Metal energies will help to create a supportive space.
Nature is our teacher. As I write this, Nebraska is overwhelmed with heavy flooding after too much snow from the Bomb Cyclone, followed by rapid melting. When water flows too fast or too much comes at one time, the Earth is not able to absorb it or contain it. Insufficient water, on the other hand, leads to drought. Trees and plants become dry and brittle … setting the stage for wildfires. When things are in balance, gentle spring rains feed the plants and trees leading to beautiful blooms and flowers.
Nine Tips to Enhance Your Career Gua
Wash your windows. Clean glass and mirrors.
Thin and organize closets. Remove clutter.
Hang a crystal and set an intention.
Place your intention in a red envelope.
Add a metal sculpture.
Use color: white for clarity; black for depth.
Include circle, oval and arch shapes.
Hang art of things you're passionate about.
Include water images.
As you clean and enhance your space, envision spending your time engaging in work or projects that you love. Know that when you do this, the right opportunities and resources will come your way to support your endeavors.
---
April 2019 Special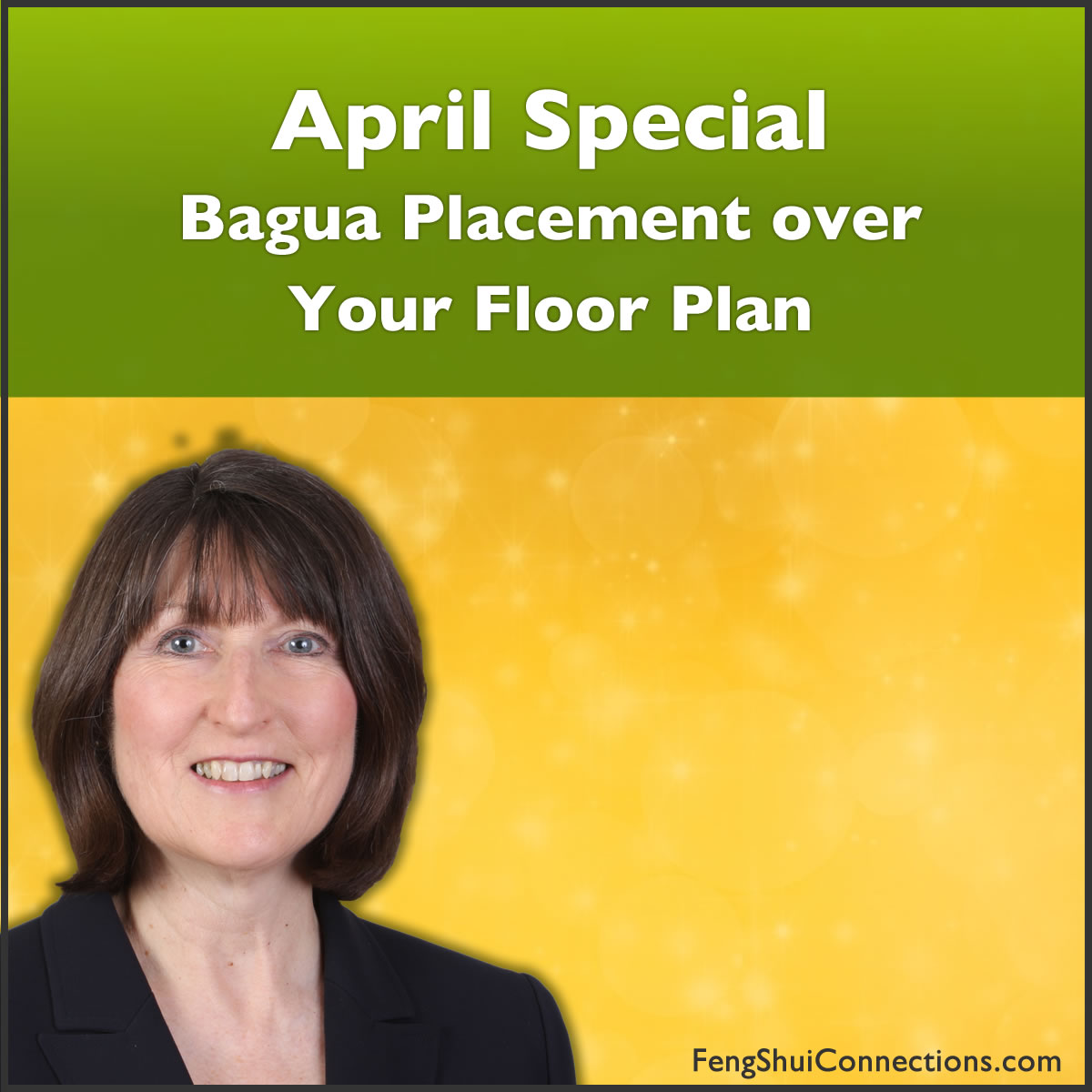 Placing the feng shui bagua over a floor plan confuses many people. The rules are guidelines and they change according to circumstances. If you have questions about this aspect of feng shui, I'd love to help you this month. Send your floor plan with each floor on an 8 ½ x 11 sheet of paper, noting the location of doors and windows. Furniture placement would be helpful too. Your floor plan does not have to be exact, it should be close or at least proportionate.
$45.00 for one level on one page. $60.00 for two pages, two levels. $75.00 for two levels and lot. Would you also like to chat about it? Add $45.00 for a half hour consultation.
Contact Peg at peg@fengshuiconnections.com for more information or to schedule an appointment.
---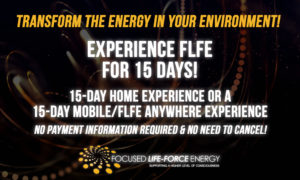 Have you tried Focused Life Force Energy or FLFE yet? If not, I encourage you to do so. I love the peace of mind knowing that EMFs are neutralized. Also, I continue to notice my ability to get more done in less time, along with an ongoing flow of ideas and solutions for whatever comes up. It helps my life to flow smoothly.
FLFE raises the consciousness level of your home, workspace, or any address to a level about Love and Joy on David Hawkins' Map of Consciousness. You can also add FLFE to a personal object or device, such as your mobile phone, can carry this vibration wherever you go.
You can try FLFE free for 15 days for a location as well as 15 days for a device. Check it out for yourself. https://bit.ly/2OxoT8m

Check out my previous blog post about the FLFE service for more experiences.
http://fengshuiconnections.com/focused-life-force-energy/