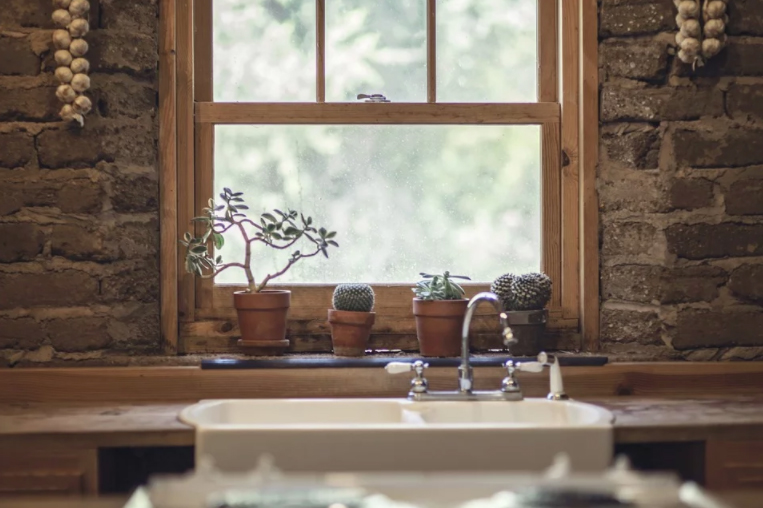 Recently, I joined Kate Hamblet, a wellness architect and founder of Balanced Home, Balanced Life, on her Healthy Home Design podcast series. We discussed how feng shui relates to healthy home design.
Beginning with the basics, I emphasized four key principles of feng shui, which are to:
Live with what you love.
Make sure everything is safe and comfortable.
Be creative. (Use color. Put your heart and soul into your home.)
Organize everything; give everything a home. (Except clutter!)
Follow these principles and you'll be well on your way to creating a home that supports good health and good feng shui.
If you're building a new home or renovating the one you have, getting things right during the design stage can save you a lot of time and money later on, in addition to improving the quality of your life.
Your Front Door is Most Important
Your front entry provides a transition between your outer and inner world. When designing a front entry, include space to easily store coats and shoes. It's helpful to have enough room to sit down and remove your shoes when you enter and to change into outdoor shoes when you leave. Also create a focal point when you first enter your house. What is the first thing you'd enjoy seeing? What message do you want to reinforce for yourself, your family and your guests?
Outside, plan a curvy path to your front door to help slow the chi. Meandering chi will support a gentle flow of energy vs. a straight line which strengthens chi rushing to your front door. Beautiful landscaping will enhance the beauty of the front of your home and entrance as well.
Your Master Bedroom Supports Well-Being
After the front door, pay close attention to your master bedroom. Plan to place your bed in a supportive position. This is one where your bed is preferably located with a solid wall behind, open space in front and facing the door, but not directly in front of the door. Avoid views of the bathroom if you can, as well as plumbing (particularly a toilet) on the wall behind your headboard. It's also healthier to place electric outlets beside your bed, vs. behind your bed.
Kitchens Are A Place to Nourish Your Health and Wellness
The kitchen comes next. It's most important to support the cook. A stove facing out, into the room places the cook in a power position. Similar to your bed, this is one where you can see what's going on, you face a large part of the room, and you have support of a solid wall behind you. Avoid placing a stove on a wall with a bed on the other side. Designing your kitchen, you can plan on adequate storage. It's recommended that you store your knives safely in a drawer vs. in a knife block on the counter. This helps to avoid argumentative chi. Another important aspect is to balance the fire and water energy in your kitchen. This is nicely done with the Wood element.
Create Personal Space
After the kitchen, incorporate a space for each person to call their own. This is very important. This could be space in a home office, a favorite chair, a child's play area, a study area, a meditation space, a craft or creative area and more. Consider everyone's interests and hobbies. Planning ahead can save time and energy later on.
Specify Your Intentions
Also, align your intentions with the bagua. Think about why you're designing or renovating your space and where you're headed with your life. Identify your top three life intentions and note where they are within the feng shui bagua. Remember that:
Wealth is the back-left corner
Marriage and partnership is the back-right area.
Career is the center front.
Click here to see the feng shui bagua. https://fengshuiconnections.com/faqs/ Scroll down the page to see how life issues relate to your layout.
There's much more to consider when it comes to designing a house and getting the feng shui details right. This is just a start.
Listen to Kate Hamblet's Healthy Home Design Podcast Series:
https://podcasts.apple.com/us/podcast/healthy-home-design/id1480370497
A new episode airs every Tuesday.