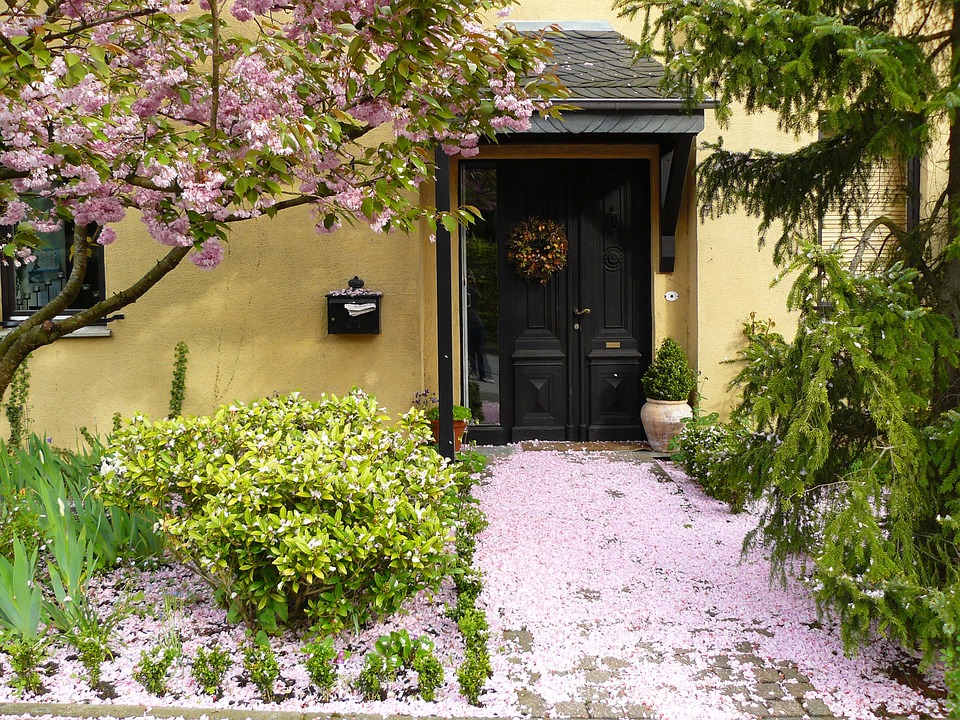 The main architectural entrance to your house is considered the "front door" even if you don't use it. It's considered the "mouth of chi," the most important part of your house. The condition of your entrance influences the quality of energy that comes to you.
Many homes have a center entrance, placing the Career gua at your front door. If this is your house, April is the perfect month to refresh your front entrance and infuse new life into your aspirations. The April 11 new moon in Aries correlates with the center-front, the Career area of your house and every room in your house.
8 Tips for Energizing your Front Door
You can create a beautiful entrance on any budget. Focus on the path leading to your front door, the vitality of plants, flowers and vegetation surrounding it, the door itself and the foyer or transition area you step into once inside.
Refresh and re-energize your front door seasonally. This month, clear away debris from winter and welcome in spring.
It's beneficial if the path leading to your house is attractive, curvy, and wide enough for 2 people to walk side by side. When the weather is suitable, mark a path if you don't have one.
Maintain your front door in excellent working order. Make sure the front door opens fully, and that the lights and bell work. Eliminate all squeaks and clutter. Painting your front door to refresh the color or give it a new one, provides an instant chi lift!
The front door typically falls into the Knowledge, Career or Helpful People & Travel sectors of the bagua. It may also bridge two of the guas.
It's preferable for the door open to the largest part of the room or house. If your door opens to a wall, hang a mirror to open up the space.
Observe the focal point as you enter through the front door. Where do your eyes go? Is the view pleasant? Does it draw you in? Do you feel good? Use your focal point to support your intentions. If you don't use your front door, be a guest in your own home and enter through your front door periodically. What captures your attention? How do you feel? What do you see?
A foyer helps you to transition from the outer to the inner world. If you don't have a foyer, create a transition area with a small rug, a screen, plants, furniture. A mirror can help expand tight or small entrances. Note what's reflected in the mirror. It should be a pleasant view. Hang mirrors so that adults living in the house can see their entire head. Otherwise, low chi and lack of confidence can result.
Your front entrance creates a first impression. Make it a positive one! Note what area of your life your front door influences and reflect on this. Is everything going well? Is there anything you'd like to shift or change? You support the changes you'd love to experience by enhancing the energy at your front door. Actively using the space will help you to manifest your desires.
If you'd like to paint your front door a new color, this blog post about Safer Paints from the Healthy Building Network might interest you.