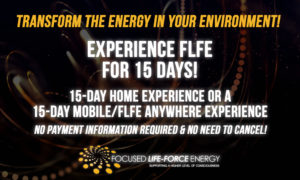 I've been writing about Focused Life Force Energy for the past few months. I encourage you to try it if you haven't done so. You can try it for free for 15 days for your home (and/or business) and then your phone (and/or a personal object).
In addition to more creativity and easier solutions to problems, I'm noticing that my fresh flowers last for at least three weeks, with regular trimming and water replenishing. Prior to FLFE I would toss them out and replace them after about 10 days.
I also like the EMF mitigation program. You can turn this on and off on your own, if you'd like to experiment with how things feel with or without FLFE.
FLFE raises each location and personal device to the level of 560 on David Hawkins Map of Consciousness. This is a high vibration that calibrates above Joy, which is also higher than Love. If you're not familiar with this map, check it out here: https://veritaspub.com/product/map-of-consciousness-dr-david-hawkins/
Check it out for yourself, if you haven't already. If you have, I'd love to hear your comments … even if you didn't notice anything. It's possible to overlook the result if the shifts happen differently than you anticipate. https://bit.ly/2OxoT8m

Check out my previous blog post about the FLFE service for more experiences.
http://fengshuiconnections.com/focused-life-force-energy/