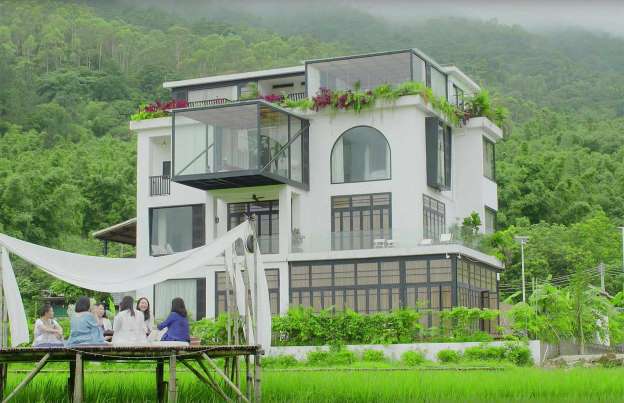 Several interesting stories about houses and living arrangements came to me over the past month. They might interest you too.
Seven Friends Build a Communal Retirement Home in China
This story is about seven women in China who met at work 20 years ago and became friends. In 2008 they began dreaming about creating a communal retirement home for their later years. In 2018, they found the perfect site: a dilapidated, abandoned building in the suburbs of Guangzhou, China, surrounded by beautiful rice fields and a picturesque countryside.
The women purchased the property and transformed the empty building shell into a beautiful, contemporary, 7,535 square foot home. In total, they invested $480,000 (four million yen). The ground floor is communal space. The second and third floors are private bedrooms and family space. The top floor is a glass-sided addition for breathtaking views of the countryside.
The ground floor has a huge, modern kitchen, enabling many people to cook together simultaneously. It overlooks the rice paddies. A glass-walled tearoom extends from the front of the house, above the landscape. It provides a wonderful, Zen-like escape space and has plenty of room for the friends to enjoy tea together.
Each of the friends has her own private family space for bedrooms and spaces for relaxation and private entertainment. The friends had fun sourcing the furniture and décor from various locations, including India and Morocco. They took a minimalist approach throughout the house. It looks inviting and comfortable. The house has a lot of light and many high end, modern conveniences.
In addition to the indoor tea room, they also have an outdoor tea pavilion. They built a bridge over paddy fields to get there. The entire setting is idyllic. Rolling green fields and hills surround the house.
Currently, the girlfriends are in their 30's and their ages span about ten years. Until they retire, they are living with their respective families and raising their children. The families spend holidays together, which is a great test of the communal living and multigenerational arrangement.
By the time they retire, the house may need some modifications and renovations, given their young ages. They are off to a great start though and they have many years of enjoyment ahead of themselves.
Several interesting stories about houses and living arrangements came to me over the past month. They might interest you too.
A Renovated Missouri Hotel provides Low-Income Housing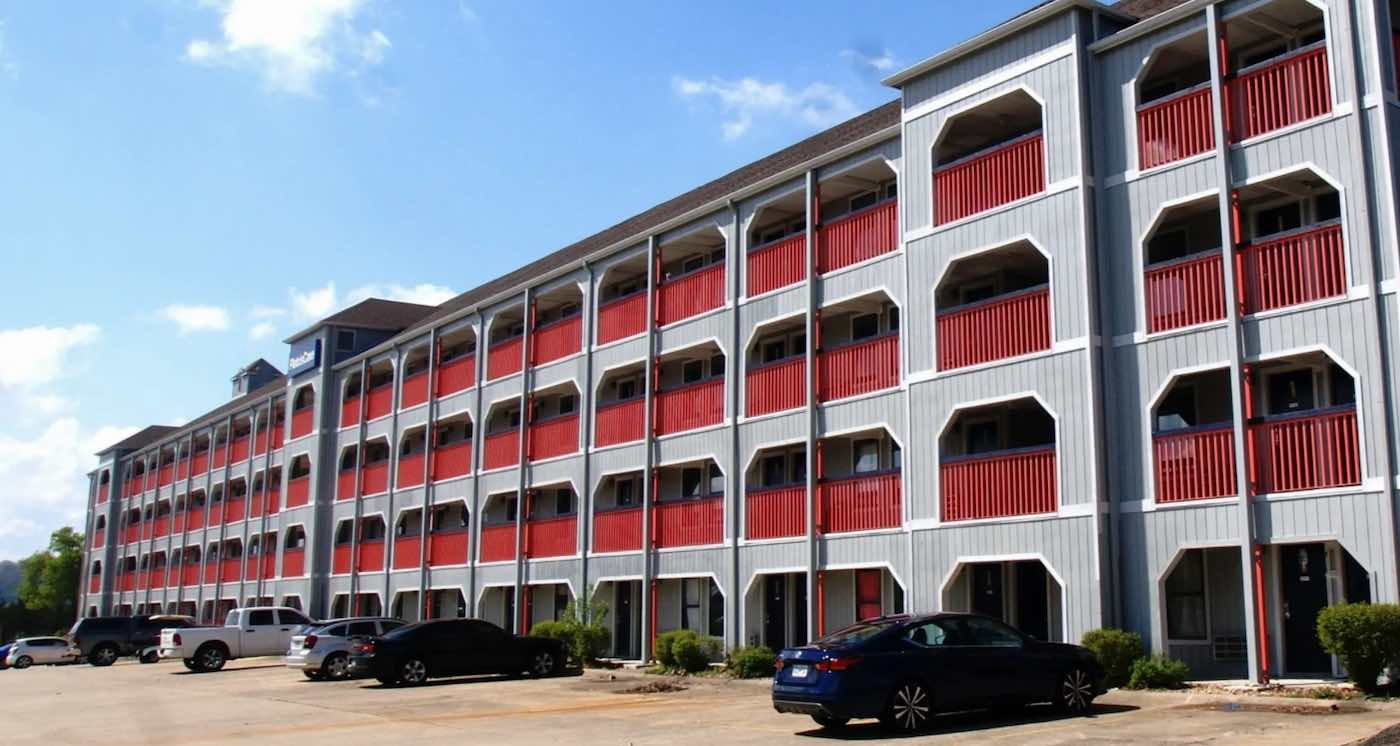 There's a housing shortage in the USA, particularly for low-income individuals and families. In Branson, Missouri, a vacant Days Inn has been given a new lease on life as studio and one bedroom apartments for people who fall through the cracks … people who are not poor enough to get subsidized housing, yet don't have enough income to afford reasonable housing at market rates.
A Los Angeles-based construction company is leading the charge through its mission of turning failing commercial sites into affordable housing.
The Days Inn project is known as Plato's Cave. The refurbished and enlarged units include utilities and have many amenities and worthwhile common space that include air conditioning, smart TVS, a gym and basketball court, and laundry facilities.
The company is currently managing ten projects, totaling 2,000 units, without any federal subsidies for low income housing. They intend to expand to 20,000 units in the coming years.
This is a company with a noble mission. They are a force for good!
The Controversy of a Climate-Resistant Vermont Home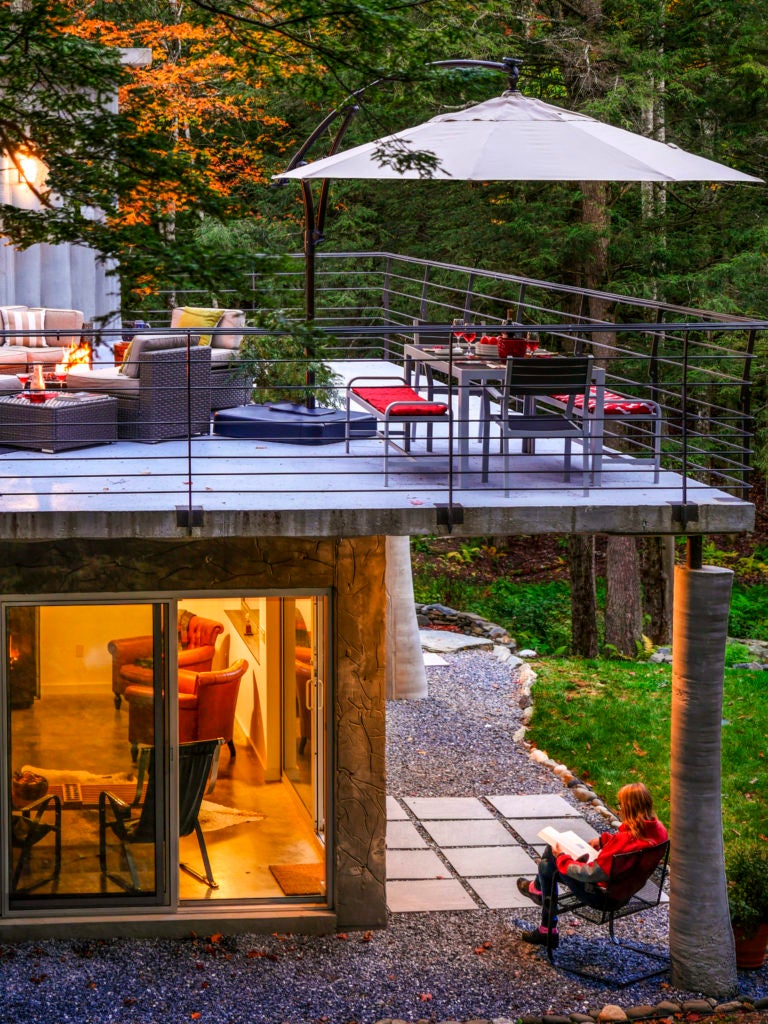 Many thanks to my friend, Mary Roberts, for sending this story along.
Recently, a Boston resident had a "climate resistant" vacation home designed and built by ArroDesign, a Vermont firm. What makes a home climate resistant? In this case, the strength of building materials, expected longevity, passive solar and thermal qualities, make it an attractive place to live. This home holds the heat in the winter and is naturally cool in the summer. It also boasts a green roof. The home is beautiful, it includes many natural elements, and has a clean look and feel. A controversy is that the home is made from poured concrete vs. wood.
Poured concrete is not environmentally friendly; its manufacturing process contributes 8% of the world's carbon dioxide emissions. In Vermont, a state known for its environmentally conscious approach to living, this is a dilemma. Poured concrete is a strong material that can last hundreds of years. Alternatively, the homeowners won't be experiencing the common wear and tear of wood framed homes or contributing to the waste that's created when homes are renovated.
The poured concrete industry is exploring manufacturing processes that will reduce its carbon footprint and do less damage to the environment. One problem is the new processes, involving polymers, are more than three times more expensive than traditional poured concrete manufacturing.
From a feng shui perspective, poured concrete enables some fun and innovative designs to be created. Curved walls are easy when using poured concrete, unlike the straight walls and square corners in wood-framed designs.
Take a look and see what you think. Do the benefits of a climate-resistant home outweigh the drawbacks?