May 4: New Moon in Taurus
May 18: Full Moon
May Area of Focus: The Wealth Gua
There's a new moon in Taurus on Saturday, May 4. Taurus is a fixed, earthy sign, linked to the natural world. It's ruled by Venus and therefore associated with cultivating beauty and attracting money. From a feng shui perspective, it's coupled with the Wealth gua. This is the back-left corner of your house, every room in your house, your land and your workplace.
Following up on last month's focus on Career, May is a month to deepen your aspirations to earn your livelihood (thereby attracting money) doing things you love or putting your time into pursuits that cultivate joy. When you're happy, your energy flows more freely and more blessings, prosperity and resources are likely to come to you.
Set Intentions with Each New Moon
The new moon is an ideal time to focus on what you want and to set specific intentions. Full moons are when things come to light. They are the time to notice the fruits of your labor … to observe what's taken root and is coming to the surface. The initial signs might be very subtle or very small. They deepen and grow over time.
Money, Wealth and Blessings
More than money, the wealth gua is about fortunate blessings, which manifest in multiple ways. They might be delivered as improvements in health, meaningful relationships with family and friends, easy solutions to problems, the right people showing up at the right time, lots of synchronicity, ease and flow, etc. Look for links between your wishes or intentions and how things unfold for you.
To facilitate the process, clean and activate your Wealth gua before the May 4 new moon. On May 4, set your intention and do a mediation to help set it in process. Two weeks later, tune in again at the full moon. Look for signals and signs that what you've asked for is in process. Also be open to the result showing up in ways that you don't anticipate. If you have a set view of how your intentions must emerge, you might miss the signs that they're unfolding a different way.
The Wealth Gua is a Wood Area
The Wealth gua is the back-left corner of your home and spaces, including every room and your land. It is a Wood area in the Five Element system and the feng shui color is purple. From a health perspective, it's associated with your hips, legs and big bones.
In nature, the Wood element is represented by trees, flowers and plants. It is about growth and a vibrant quality of life. The season is spring. After our long winter in the northeast, the plants and trees are rapidly developing. More buds are emerging daily, and plants seem to grow inches overnight. This color associated with Wood is spring green and the organ is your liver.
It's Time to Spring Clean
Spring is a time to cleanse your body and your house. The ritual of spring cleaning helps you to shift your space from the passive energy of winter to the expansion of spring. It fits well with our longer days and warmer temperatures. Nature is in a growth mode and you should be too!
This is an ideal month to wake up your space and reinvigorate your life. Helpful actions are to:
Wash your windows, glass and mirrors.
Vacuum deeply into corners, high and low.
Retire heavy fabrics and dark colors.
Remove extras and unwanted items.
Eliminate paper piles.
Clean and trim your plants.
Following a clean-up, enhance your space with:
A vase of fresh flowers.
A vibrant new plant.
Lighter colors and fabrics.
A shining crystal.
A treasured item or something that reminds you of blessings.
Green, purple and a little spark of gold.
Read more about the Wealth gua and the Wind trigram from my May 2018 blog post.
If you'd like help analyzing or reviewing any area in your home or office, contact me. Send along some photos or a video too.
---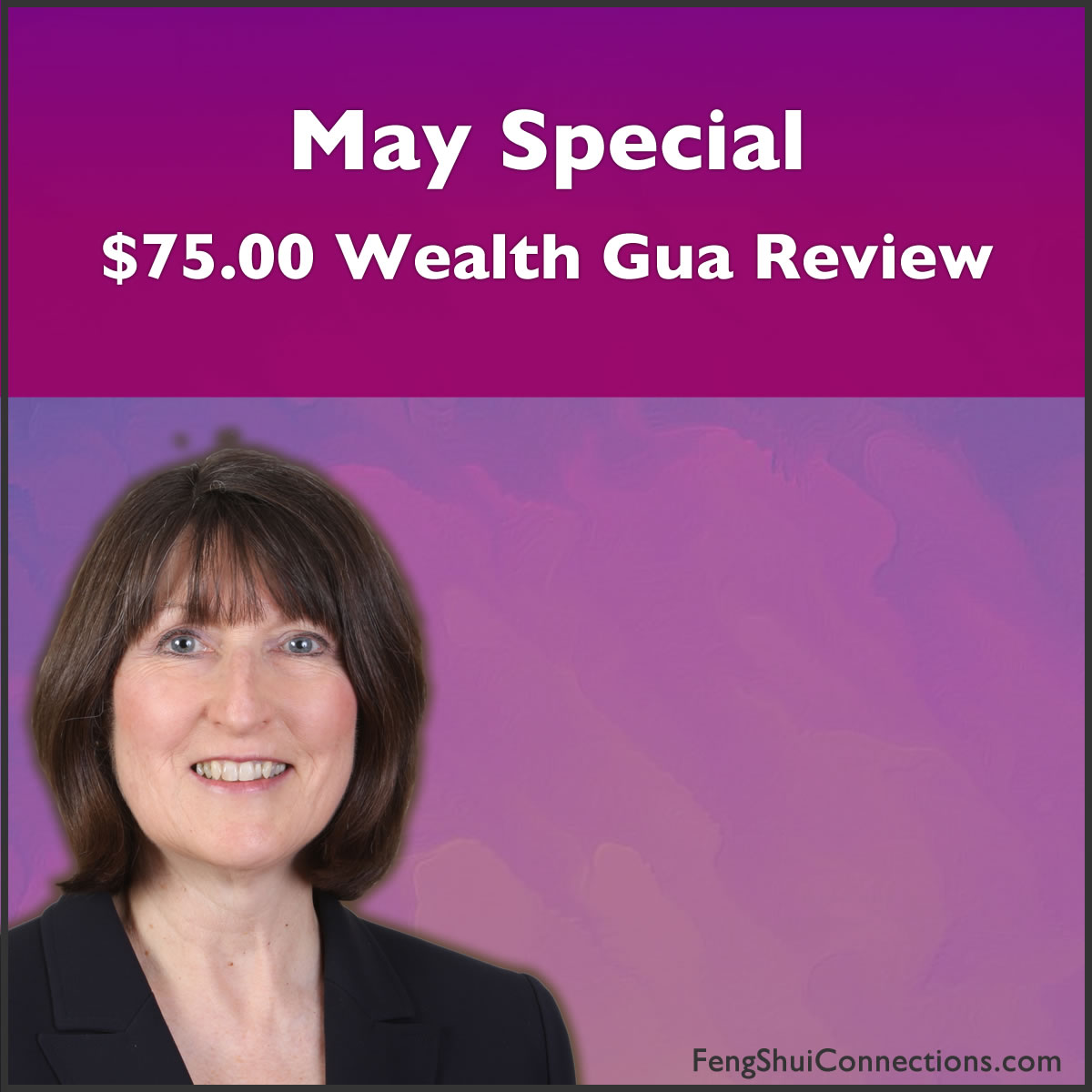 This month take a fresh look at the patterns in your Wealth gua and wealth corners throughout your home or office and bring the spaces into alignment with your intentions.
Patterns tend to repeat themselves. It can be a challenge to notice them in your own space because people overlook things that have been in plain sight for 30 days or more. You pass right by without registering the implication.
Send photos or short videos of the back-left corner of your house or workplace and the back-left corner of important rooms in your house to peg@fengshuiconnections.com. I'll help you to identify the patterns and provide suggestions that align with your intentions.