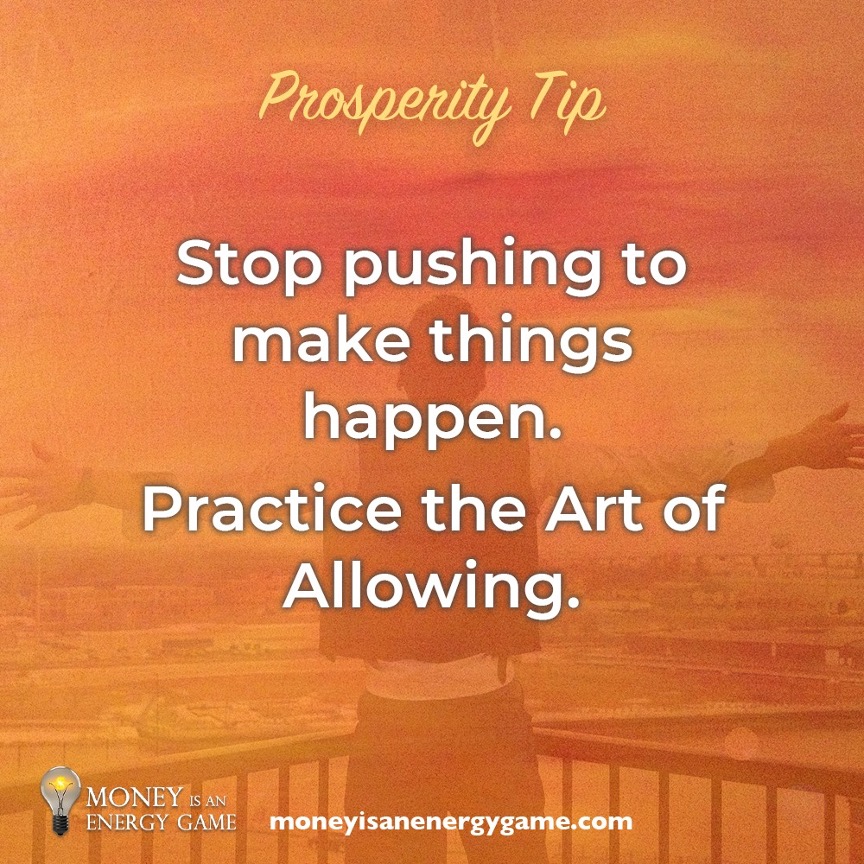 Life is so much easier when you're in sync with nature and the overarching patterns of the cosmos. One way to be in sync is to practice the Art of Allowing. I find that the best way to do this is to eliminate your effort to "make" things happen. Rather, set a clear intention for what you want, take inspired action (without pushing or stressing), and then step aside and allow the Universe to deliver the end results. As you "allow," also express gratitude that the result of your intention is on its way to you! Gratitude is very powerful and it works.
For example, suppose you'd like to have more money in your bank account. Begin by specifying how much you'd like to have. This is your intention. Next, give thanks that this amount is already there. Giving thanks is taking action! Energize the end result by visualizing your bank account filling up and note how you'll feel as it does.
Next, take practical steps to increase the energy around your intention. Consider the various ways money comes to you, see it happening, and do your part to assist the process. You might have more customers, clients, or job opportuniteis. You might also receive lower bills, lower expenses, refunds, discounts, and gifts. If you're self employed, it might be through an influx of work or higher paying work. If you work for someone else, it might be a raise in pay or an increase in hours, if you work part time.
Money is energy and it can come to you in a variety of ways. When you ramp up your energy, money flows more easily. One bypoduct of ramping up your energy is a decrease in resistance. Resistance is all of the various ways you tell yourself that what you want can't or won't happen. It's your self-talk, it's agreeing with others who express negativity, it's feeling anxious, stressed or worried, it's procrastination (although some procrastination is useful). Other common habits that push money away include the lower emotions of blame, shame, fear, anger, regret, not feeling worthy, feeling like you don't deserve better, being frustrated, etc.
Your job is to be in joy. Even though we live in a tumultuous world, you can develop inner peace and happiness. Begin by finding at least one thing to be happy about every day. The one thing can be different each day too. Then, give thanks on a daily basis for the many blessings in your life. If you feel they aren't there, take a closer look. When you look, I guarantee you'll find many reasons for joy and happiness.
Madeline Gerwick and I have been doing a series of podcast interviews about the concepts in our book, Money Is an Energy Game. There's a wide variety of hosts and programs. Select an interview that captures your attention. You might discover a new podcast host or hostess you'd like to tune into regularly.
For ongoing Prosperity Tips, follow "madelineandpegsmoneytips" on both Facebook and Instagram." When you're on Instagram, also follow Feng Shui Connections for the newsletter articles that are posted throughout the month.
If you've read the book, we'd love your review! You can place it directly on Amazon (scroll to the bottom of the page) or send it to Peg via email. Thank you!