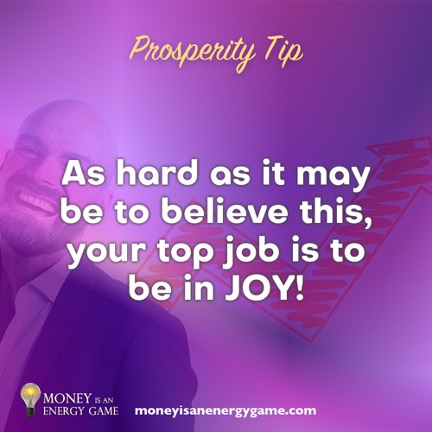 Do you live in Joy every day? If so, bravo! It's great for your own well-being and you're likely to be an inspiration to those around you.
If you tend to see the glass as half-empty rather than half-full, train yourself to change your story. Notice your default patterns and choose to create new and more uplifting replies. Answer questions with a positive response and words that expand energy vs. words that spiral down.
I recently asked a friend how she liked her chosen vacation destination. Her immediate reply was "It's too crowded!" I said, "Wow. You're also planning to relocate there. Why are you relocating if it's too crowded for you?" She replied with "It's only overcrowded during the summer months." "What do you like about the area?" I asked, to shift the convesation in a more positive direction.
Some people automatically respond to questions with a complaint or negative response. They don't even realize that they're doing it. As a result, they're pushing joy away from themselves and their lives reflect those patterns.
I recommend that you take things one day at a time. Today, choose to live in joy. Then do the same tomorrow. Choose joy each day, for the next 30 days. After that, chances are that you're created a new default pattern of living in joy every day.
Give Joy a chance. As you change yourself, you'll also impact those around you. This gets catchy. It can spread throughout the world.