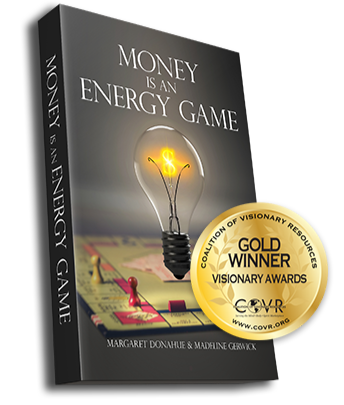 High Energy Health Interview with Dawson Church
On Thursday, July 6th, 2023, Madeline Gerwick and I will be guests on Dawson Church's program, High Energy Health, at 1:00pm PT and 4:00pm ET. Dawson Church, PhD, Founder of the National Institute for Integrative Healthcare, is the primary investigator in many scientific studies, and the best-selling author of "The Genie in Your Genes."
Join us! We'll be discussing a variety of ways to strengthen your prosperity attraction skills as well as ways to release blockages that we presented in our book, Money Is an Energy Game.
Click this link to listen live: https://healthylife.net/
To listen to the podcast after 24 hours (and to check out previous programs): https://healthylife.net/RadioShow/archiveDC.htm
Here are thoughts from participants in our Wednesday Study Group:
A Practical Guide to Help Heal and Open Up the Pathways to Abundance and Prosperity

"I am a former United Nations diplomat who is now working on launching my own coaching services, and I've really benefited from the wisdom in the Money is an Energy Game co-authored by Margaret M. Donahue and Madeline Gerwick. This book will shed light for anyone walking in darkness concerning how they may manifest financial abundance, prosperity and stability. It is not a typical "how to get rich" book. It is an anointed composition of guidance and tools that help people energetically shift allowing for trust and abundance to flow more readily. I have had serious inter-generational issues with maintaining financial security, which have impeded my ability to ensure stability. Money is not just a tool for our financial needs, it is an energy that flows through and around us every day, and Margaret (Peg) and Madeline have created a practical guide to really help heal and open up the pathways to abundance and prosperity. I highly recommend this book and their working group!" - Kristin K, Wellington, New Zealand 21 June 2023
Reading This Book Once Is Not Enough
There is so much great information in this book. Reading it through once is not enough. I have both the kindle version and the paperback. It truly is a treasure trove of information. There are so many practical tools and strategies in this book. The only thing holding you back is yourself. Starting to see your own patterns or resistance of an abundance mindset is a key component. This book is a process, and a practice but it's worth every moment of the journey! So much wisdom! The authors live by their words. They are an inspiration. I can't recommend it enough.
Frances L Massachusetts
A Fun and Inspiring Group
Peg and Madeline's online Money Prosperity group has been so helpful to me in so many ways. Every week we went through a chapter of their book "Money is an Energy Game," and the group would share what they learned and experienced. It was fun and inspiring! The group got me into a habit of writing down manifestations that happened during the day and there were so many! look forward to it after my yoga class every Wednesday. With gratitude, Bonnie D. 6/2023
Join us!
Thursday, July 6th
1:00 pm PT, 4:00 pm ET