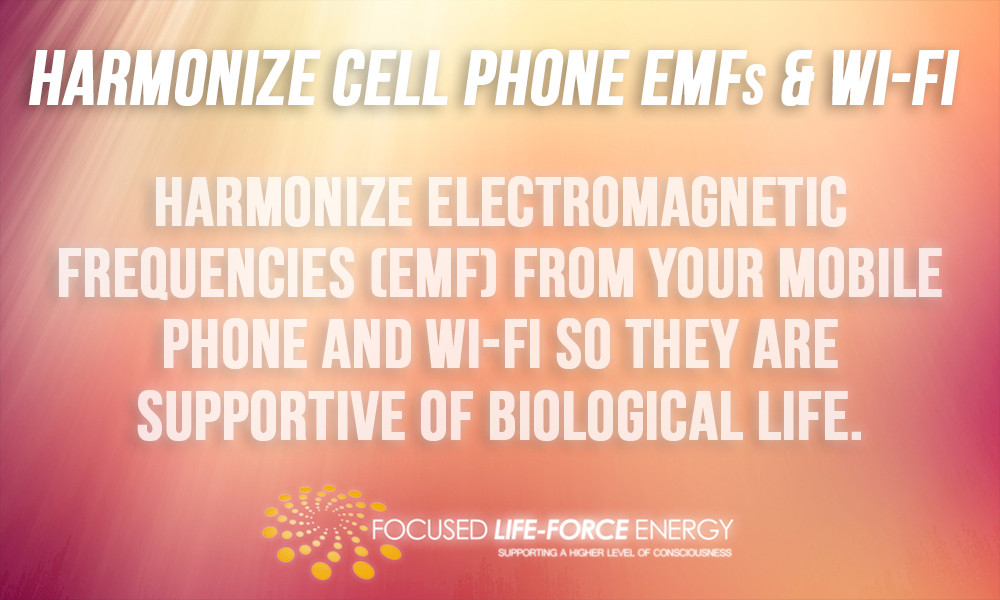 A significant aspect of feng shui is how chi flows between your inner and outer worlds. When your energy is calm on the inside, chances are you'll find peace in your outer environment. And tranquility in your outer environment can lead you to inner serenity as well. If you're one of the many people who've been experiencing heightened states of anxiety or feeling a bit disjointed and unsettled, it's understandable. There's a lot of disruption in the world at large.
Focused Life Force Energy (FLFE), a service I've been subscribing too for the past three years, contributes to the harmony in my environment. FLFE activates a high consciousness field and has many benefits. One of my favorites is EMF harmonization. Prior to having FLFE I was taking regular steps to neutralize the effects of EMFs in my home. I used harmonizing discs, smart meter guards, router guards, crystals, orgone, sacred geometry and more. WIFI is everywhere these days, and my husband loves technology, along with the latest devices and gadgets. I would be comfortable with how things were, and then more wireless items would arrive and be installed. With FLFE in place I no longer worry about EMFs.
Additional benefits include:
increased focus, concentration, and creativity,

an energized living/work space, deeper sleep,

a boost in my body's natural healing ability,

an overall sense of calm and peace.
FLFE users report fewer headaches, improved digestion, restful sleep, and more energy. In addition to EMF Harmonization, negative history is also cleared from your property.
Treat yourself to a 15-day Free Trial of Focused Life Force Energy (FLFE). Experience what it feels like to be in a high consciousness environment. Notice what shifts for you and those living in your home. In particular, tune into how you feel, your attitude and energy, the ways problems get resolved and how quickly it happens, your sleep patterns, your relationships with others, and more. The shifts are subtle. After a while you might take them for granted, until you realize that some of the disruption in other people's lives is not happening in your own.
Learn more from FLFE's founders through this short video. The FLFE service works with energy instead of against it. To find out everything included in a FLFE subscription, visit the Service Details page.
If you're already a subscriber, remember to do the daily boost for important activities. You can boost your property for 30 minutes daily or your phone for 5 minutes daily. I like to do the property boost when I have a significant activity underway or if I want more clarity about a situation. Check it out! Also, check your account and use your "Pay It Forward" gift! If you have "pay it forwards" available, send a gift to anyone in need.
FLFE is an excellent example of subtle energy at work. I encourage you to check it out.