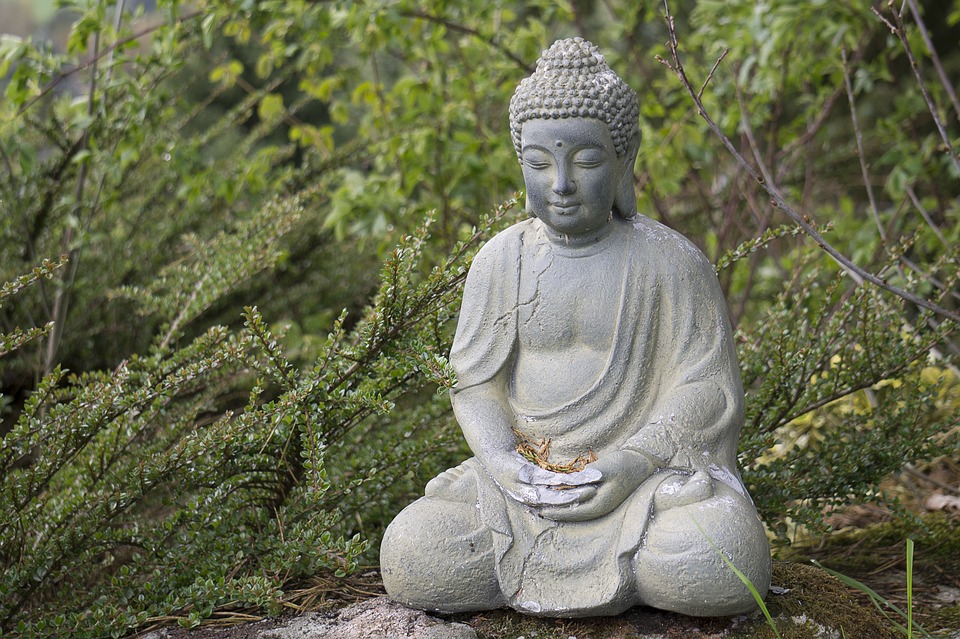 Your home is your private sanctuary, away from the daily stresses and hustle of the outer world. It's your safe place, where you are meant to relax and be yourself. A calm environment contributes to peace within yourself. When you experience serenity within yourself, you're also able to project peaceful and loving energy to everyone around you. This is something the world can use right now. It begins at home, with each individual.
What contributes to a calm, loving and peaceful environment?
It's one where:
You genuinely love your space.

It's comfortable and safe.

You've put your heart and soul into it, creatively.

It is well-organized and everything has a "home."
Your home does not have to be "feng shui perfect" to be supportive. Similar to people, it has to be loved and cared for. It's an ongoing process.
You also don't need to have a lot of square footage or money to create a personal sanctuary. What matters is what you do with the space that you have. Some people have "picture-perfect" homes that are energetically cold or void of love. Other people reside in spaces that exude love and comfort from the moment you enter. Many dwellings are in-between. Similar to yourself, your home is a work in progress. The energy is always in motion. They objective is to attract beneficial, loving energy, to allow it to meander and to circulate throughout your space, and to draw strength and support from it for your daily challenges and endeavors.
Five years ago, my husband and I downsized and relocated to our seasonal home. We reduced our living space by at least a third. We gave up a basement, attic, two car garage and shed, along with over 32 years of accumulates "stuff". Instead of a large, wooded lot that required ongoing maintenance, our smaller 80 x 100 square foot yard is easy to care for. In return, we gained a deeper connection with our property and with nature. We also we have less maintenance. During the warmer months our house is surrounded by flowers and herbs. In the fall, it takes a weekend to put the gardens to bed and pull in a bit for winter. We've also cultivated a deeper and more meaningful social network, a wonderful community of friends. We love our home. It's a haven where we have more time to do things we love, with people we enjoy.
You can create your own sanctuary wherever you are right now. The first step is to make it comfortable and to provide everyone a space of their own. Each person's area can be as simple as a comfortable chair or section of a room. It's where one can spend time alone … reading, meditating, writing, chatting with friends, doing a favorite activity, etc. Furniture with rounded edges vs. sharp corners also contributes to a comfortable home. If you have a lot of sharp edges throughout, see what you can do to soften them or minimize people bumping into them.
The second step is correct any safety features that may have fallen through the cracks or were set aside. Your electric and plumbing systems should be in proper working order. When they are deficient, they negatively impact health and wealth. If any windows are in disrepair, get them fixed. Windows represent clear vision as well as the voices of children. If and when something goes wrong, get it corrected as soon as possible.
When I lifted the shade on a bedroom window recently, I noticed a very large stress crack. The glass had broken overnight. I called the glass repair shop and they sent someone to come and measure it that day. Our "helpful people" came to the rescue. It just so happened someone was in the area. A few weeks later, the window was fixed.
If you're not in a position to do necessary repairs, place them on a list of things to do. Set the intention that circumstances will come together for you. Visualize the repairs being complete. This will assist the process. Resources will be more likely to come your way vs. feeling that you can't get it done, for whatever reason.
The third step to creating your personal sanctuary is to be creative with your space. Personalize it and make it unique. Use colors, fabrics, and décor that you love. Add art and pictures. Share your life story through what you place throughout your home. Your experience is exclusive to you. Embrace it and cherish it.
Fourth, continually remove clutter from your home and organize the rest. Give everything a home or a place to reside. Too much stuff out in the open is distracting and a bit chaotic. It contributes to stress. Clutter is anything you don't use or love. It's one thing to have a few books around that you intend to read, reflect on, or share with others. It's another to allow your book piles to grow regularly without storing them on a bookshelf or elsewhere. The same goes for games, puzzles, magazines, knitting and craft items, electronics, you name it. You can cherish and honor your possessions without having them out in the open 24/7. Less is more when it comes to turning your home into your personal sanctuary.
You can create your personal sanctuary with minimal effort. Following these four basic feng shui practices can put you on a path that calms your energy, strengthens your health, and supports everyone who lives in your house. Embrace your space and choose to be happy with what you have right now. It's catchy. When you're happy, others around you are more likely to be cheerful too. This is one way to project peace and joy to the world.